One of the biggest problems our clients face at this time of year is how to treat dry and frizzy men's hair in Bristol during the Summer months.
Dry or frizzy hair can be a real challenge, but our Master Barber Franco has some simple, tried-and-tested tips for you to combat these men's hair issues.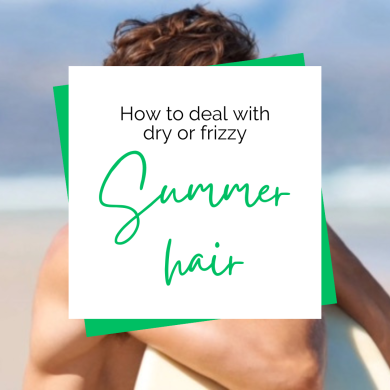 Firstly, let's look at the causes of dry and frizzy hair in men across Bristol.
According to Franco, the main causes are:
* The scalp not producing enough natural oils daily
* Colouring and bleaching hair products being used too often and/or incorrectly
* Over-exposure to the sun and wind
* Using harsh shampoo and conditioner products
* Over-use of hairdryers and/or heated styling tools
The end result is dry, unmanageable hair that looks dull, lifeless and in poor condition.
To get your hair shining and in awesome condition, Franco advises booking an appointment with our team to get your hair trimmed and any split ends removed.
You may want to consider a Summer restyle if you have longer hair – please visit here to find out more.
Some of Franco's top tips to protect your hair during the Summer include:
* Wear a hat, especially in the sun
* Avoid chlorine in swimming pools and salty seawater
* Reduce the frequency of hair washing as this removes protective oils
* Blow-dry hair less often
* Avoid the over-use of heated styling tools
* Use a weekly hair nourishing mask and leave-in treatments to lock in moisture
Franco also recommends using Moroccan Oil to hydrate men's hair during the Summer. Visit our online shop here to order your own.
Is your hair frizzy?
Franco also highlights the issue of frizzy hair for men in the Summer.
Essentially, frizzy hair needs moisture and hydration.
Frizzy hair that receives moisturising products and consistent hair care will respond well. Otherwise, hair will take moisture from humidity in the air and turn frizzy.
Straight and curly hair can suffer from being frizzy. Heat and high humidity in the Summer will often cause problems for those prone to frizzy hair.
Franco and the team have some awesome advice during men's hair consultations as well as being able to offer effective hair treatments and specialised products to protect hair, add in moisture, and reduce frizz.
To find out what to expect from one of our men's hair consultations, please visit here.
Franco also advises the following steps to deal with frizzy hair in Bristol:
* Book regular trims as split ends will increase the frizzy look
* Use a great hydrating and conditioning product daily, such as Moroccan Oil
* Ask one of Franco's team of Bristol men's hairdressers to recommend the best moisturising and conditioning products for your bespoke needs
* Rinse out the conditioner with cold water this Summer, to seal all cuticles and reduce moisture loss
* Ensure that your hair is 100% dry when blow-drying: the slightest trace of moisture will promote frizzy hair
Are you using the right hair products?
When clients see Franco and the team about dry or frizzy hair problems, sometimes the issue is the hair products they have been using for years.
Franco suggests that this can be a good time to change your hair products.
We have the best products available to treat dry and frizzy hair, including rich shampoos and conditioners, shine sprays, hair masks, heat protection products for men, hair oils and leave-in conditioners.
The entire team love to help each client individually and talk through the range of products we have available in-salon and at our online store.
Franco adds that it is particularly important to get the right products for your hair type. This is vital if the hair has been chemically treated, permed or coloured.
Check this out to see some of our favourite Summer hair products for men in Bristol.
You can also book an in-salon hair hydrating treatment to give your dry or frizzy hair the best possible protection this Summer in Bristol.
Visit here to find out more about this service.
If you're unsure how to deal with dry or frizzy hair this Summer, book a consultation with Franco and the team by calling us on 0117 944 6265 and mentioning this blog post.
We currently have a Summer promotion on Moroccan Oil Original: every customer who buys a 100ml bottle gets a 25ml bottle for free.
This promotion is available online and in-salon while stocks last.
Franco's Barbering Lounge
Average rating:
0 reviews