With more than three decades' men's hairdressing experience, Creative Director Franco Lombardi has carefully hand-picked his expert team of barbers for Franco's Barbering Lounge.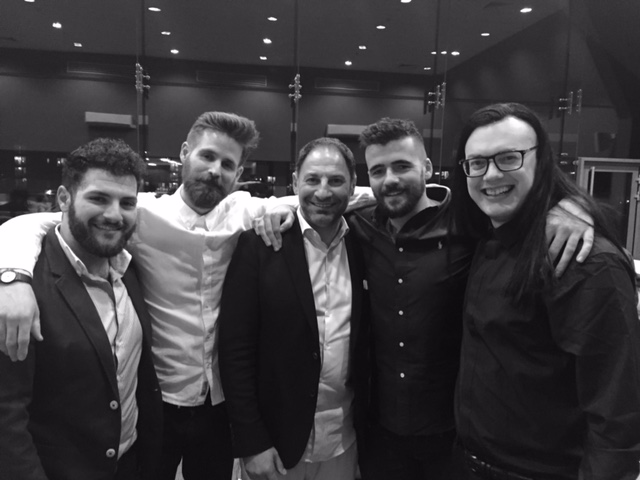 Meet the team that make the barbering and male grooming magic happen every day at our men's hair salon on 31 Gloucester Road in Bristol:
Franco
Barbering for 30+ years
Signature haircut? Side parting, low fade short back with quiff and slicked-back top
Favourite hair product? American Crew Grooming Cream. Good hold with gloss finish for any smart cut
What inspired you to become a barber? Love helping other barbers get passionate about our trade – it's all about making people happy
Favourite film quote? "Do you expect me to talk?" "No, Mr Bond, I expect you to die!" – Goldfinger
Top of Bucket List? To travel the world and watch the F1 Season
Entrance music? Open Sesame – Kool & the Gang
Daniel
Barbering for 10 years
Signature haircut? Skin Fade
Favourite hair product? Cassius Clay by EVO. For short or long choppy 'Japanese anime style' textured finish there's nothing better
What inspired you to become a barber? Being a barber lets me be my creative self every day.
Favourite film quote? "It can't rain all the time" – The Crow
Top of Bucket List? Get an annual pass to Disney World
Entrance music? Break On Through – The Doors
Josh
Barber for five years
Signature haircut? The Mullet
Favourite hair product? EVO Box O Bollocks. Strong hold, leaves a good finish and I like the name!
What inspired you to become a barber? Working in a creative industry, and meeting so many great people
Favourite film quote? "If he dies, he does" – Rocky IV
Top of Bucket List? Got to Vegas to watch am MMA or boxing match
Entrance music? Hold On (I'm Coming) – Sam & Dave
Jack
Barbering for four years
Signature cut? The Pompadour
Favourite hair product? Red Reuzel. Good hold with the perfect shine finish
What inspired you to become a barber? A life-long ambition
Favourite film quote? "Johnny 5 is alive!" – Short Circuit
Top of Bucket List? Fly on Concorde
Entrance Music? Riding High – Faze
Luca
Barbering for three years
Signature haircut? Crop haircut
Favourite hair product? Casual Act EVO. Holds curls well in damp hair, gives nice soft hold on dry hair. Does what it says it on the tin!
What inspired you to become a barber? I grew up with a strong family passion for hairdressing and barbering, and want to help educate gents on new styles and how to maintain them.
Favourite film quote? "Did you ever hear the philosophy that once a man admits he is wrong, that he is immediately forgiven for all wrongdoings?" – Pulp Fiction
Top of Bucket List? Travel through South America
Entrance music? How you like me now – The Heavy
MAP
WATCH US AT BIG HAIR RUNWAY
WANT TO JOIN OUR TEAM?
Then check out our latest job vacancy and if you think you fit the bill get in touch with Franco.