The hot weather is well and truly here, with many of our clients asking the barbering team what are the best Summer hair products for men in Bristol to beat the heat.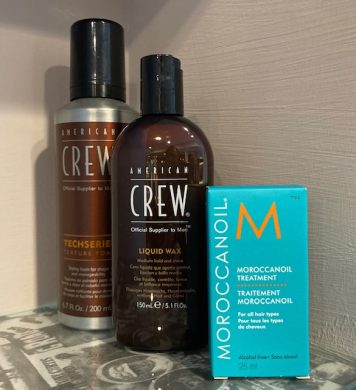 Summer hairstyling for men can be a tricky topic, with dry heat stripping hair of moisture and hydration, as well as leaving it limp and lifeless.
This makes it much harder to condition and style during hotter months. Summer heat can also leave hair flyway, frizzy, flat and heat-damaged.
We have some awesome Summer hairstyling tips for men, which will help to keep hair thick, well-conditioned, hydrated and looking sharp for date night.
The starting point with any men's hair regime is to shampoo, towel dry, and if working with straight hair use a hair drier with a nozzle diffuser on low speed to better control the heat flow.
We have three awesome men's hair products, which will be cocktailed together to deliver a superb mix of hydration and styling excellence.
Take a small golf ball-sized amount of American Crew Texturizing Control Foam into your hand. Add in two drops of Moroccan Oil and then one drop of American Crew Liquid Wax.
Mix these three hair products together and work into the hair.
This combination will give hair volume, hydration, texture and hold.
We also recommend as the hair is being dried with a hair drier to scratch the roots with your hands as it dries. This will create root lift and add volume.
The hair will be thickened with a quality shine to finish off the Summer vibe.
Clients are also using our latest addition of American Crew Matte Clay Spray
We have a huge range of men's hair products, men's hair styling products, men's grooming products, and beard care products at our online shop – please visit here to find out more.
If you're looking for shorter hair ideas for Summer, check this out.
Don't forget to also check out our Bristol Gents Hairdressing Blog to get free hints and tips on seasonal hair care, hair styling and much more.
To find out more about the full range of Summer hair products for men at our Bristol barber salon, get in touch via info@bristolbarber.com and mention this blog post.