Creative Director Franco Lombardi and qualified barber Luca Lombardi have recently returned from a fabulous family wedding in Italy, and this gave them both the opportunity to demonstrate the importance of looking sharp for Summer, as the picture below clearly highlights: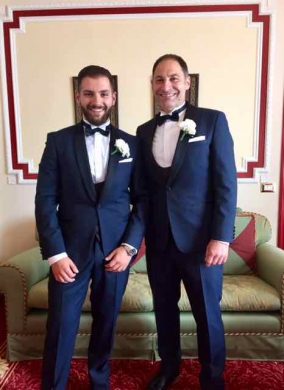 As the warmer weather approaches, it's important to consider elements comping up during the Summer, such as wedding hairstyling for men, male grooming tips, beard shaping, and using the best possible products.
Smart styling for Summer for guys also involves consultation with experts, to ensure that you get the best hairstyle, the best grooming inputs, and the finest products for hair care and beard care, to really set off a sharp Summer look.
Our team of barbers and grooming experts provide free consultations, with both Franco and Luca on hand to guide and advise clients old and new.
Part of the process of looking sharp for Summer also involves a hot towel shave, to really get a clean and impressive finish to your grooming regime: check out our new Bristol Shave Club here.
We also have an awesome example of our wedding haircut for men service in action – visit here to find out more.
We recently launched an express Beard Care Service in Bristol – read the blog post here to find out more and book your slot online with us.
If you'd like some of the top tips on male grooming from our barbering team in Bristol, check out this recent blog post too.
We offer the best tips hints and advice on men's haircuts and male grooming trends at our Bristol Barber Blog – visit here to find out more and see other examples.
We can also advise you on the best men's hair products, beard care products, and male grooming products to use this Summer – visit here to find out more about our full range of services.
To find out more about our Gloucester Road barber salon in Bristol, contact us here.