The team of men's hairdressers in Bristol at Franco's Barbering Lounge have been delivering more and more beard grooming-related services recently, and with that in mind, we've got an exciting new service to offer client – express beard care in Bristol.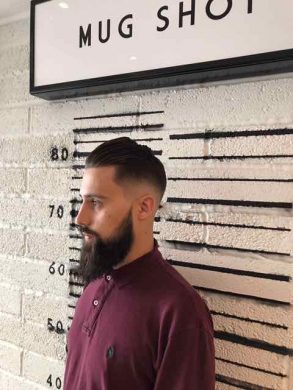 This super-sharp example above clearly highlights the kind of beard grooming and beard shaping the team offers at our Gloucester Road men's hair salon.
If you're having a bad beard day, or your beard simply needs some TLC with an expert session of beard grooming or beard trimming from one of our team, book in and let our new express beard care service take care of the rest.
If you book online – see the link below – it's usually possible to get a same-day appointment within three hours, subject to availability.
Our express beard care service includes shaving, shaping and grooming, and is usually complete in around 15 minutes. It's a quick, but quality, beard care service delivered with free advice on beard maintenance and grooming.
We've got an awesome range of beard care and beard grooming products to buy-in salon too – including superb products from Triumph & Disaster, American Crew, TIGI B for Men, Reuzel, EVO and Mariner Jack.
We have a range of beard grooming products available to take home from these top-class global brands, including beard serums, beard oils and more.
Our team of expert beard grooming barbers also provide a full and free consultation for clients on how their beard can be matched with the best men's hairstyle for them too – ensuring that you look your very best.
Don't forget you can also book your slot online here for all your beard care, beard grooming and beard trimming needs.
To find out more about our Gloucester Road barber salon in Bristol, contact us here.