Our Gloucester Road barbers have been asked recently to provide clients with tips on beard care for Summer in Bristol, so we decided to post a blog on the subject.
Beard care during warmer weather comes down to understanding individual beard types as well as using the best beard care products available.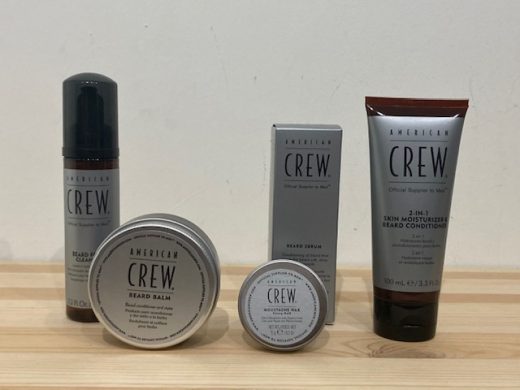 We see clients at our Gloucester Road men's salon with little knowledge of beard care. This is where our detailed consultation process helps them.
It's vital to establish the current beard care regime each client has in place and to give the best advice possible to ensure a better grooming ritual.
External factors can have an impact on beard care in Summer. This could include long periods of hot dry weather, sun damage to beard hair, and chlorine from pools frizzing out beard hair when swimming on holiday.
Our beard care service begins with a cocktail of awesome beard care products to use for a better-groomed beard.
These products include:
American Crew Beard Foam Cleanser (to clean the beard)
American Crew Two-in-One Skin Moisturiser & Beard Conditioner (to hydrate the beard)
American Crew Beard Serum (to give the beard shine)
Cocktail the three products into a golf-ball-sized ball and work into the beard.
This will wake up hair follicles. Then use a hair drier on high heat at low speed and blow-dry the beard hair with a round barrelled brush.
This will straighten and condition the beard before a further consultation in-salon to see if the client wants any length reduced from the beard.
With straightened and conditioned beard hair, many clients opt for the sides to be trimmed in, to create a more defined jawline rather than cutting the length.
All of our beard trimming services are completed using scissors not clippers, to deliver a bespoke look.
As beard specialists in Bristol, our team also trim the moustache to provide a full service.
We recommend using American Crew Beard Balm daily to work into the beard sides and promote a better-groomed beard.
A beard care service such as this would be recommended by our team every 4-6 weeks, and costs £27 for a long beard.
It is important to consider ongoing hydration and aftercare for every beard type and length, particularly during the hotter, drier Summer months.
We also offer a luxury Beard Grooming Experience in-salon, which has been really popular with clients in 2022.
To buy our favourite beard care products, visit our online shop here.
Check out this blog for more advice on beard grooming in Bristol.
Don't forget to also check out our Bristol Gents Hairdressing Blog to get free hints and tips on seasonal hair care, men's grooming tips, men's hairstyling and much more.
To find out more about the full range of barbering services, men's grooming products and hair products for men at our Bristol barber salon, simply get in touch via info@bristolbarber.com and mention this blog post.