With Autumn well and truly here, why not treat yourself to the best beard grooming experience in Bristol at Franco's Barbering Lounge.
The Beard Experience available at our Gloucester Road barbershop is proving to be increasingly popular with clients, thanks to the expert beard grooming services of our trained, qualified and experienced barbers.
The Beard Experience service starts with a beard trim, and this is priced and delivered on the beard size – small, medium or big.
Next, a hot towel soaked in tea tree oil is placed over the face and neck to open pores.
American Crew Exfoliating Scrub is applied in circular motions around the forehead, bridge of the nose, nostrils, and cheeks to remove dead skin.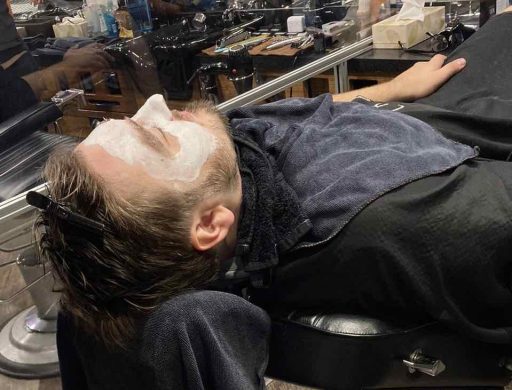 Another clean hot towel is placed on the skin to allow the skin to rest and steam. Then a full facial wipe and cleanse is applied.
Energising moisturising cream is applied to replenish moisture, with an eye-roller pen applied under the eyes to tighten and refresh tired skin there.
This reduces bags and freshens skin around the eyes to rejuvenate.
Finally, a cold towel is placed on the face and neck to close the pores and protect them from damage after the luxury Beard Experience.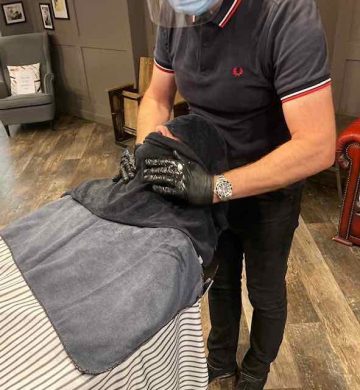 The entire service takes about 15-20 minutes and clients love it.
Prices start from £13 with our awesome female barber Aga. This service is also available with Senior Barber Luca or Master Barber Franco at £17.
To see an example of our stunning Beard Experience service in action, visit here.
We think it's the best beard grooming experience in Bristol. Come and find out why!
To treat yourself to our unique and refreshing Beard Experience this Autumn, either book through our App – visit here to find out more and download it.
Alternatively, you can book online here via our website.
To contact us, simply get in touch anytime via info@bristolbarber.com