It's the time of year when many of our clients are looking for short hair ideas for Summer, and the team of Bristol barbers at Franco's Barbering Lounge are on hand to guide and inspire.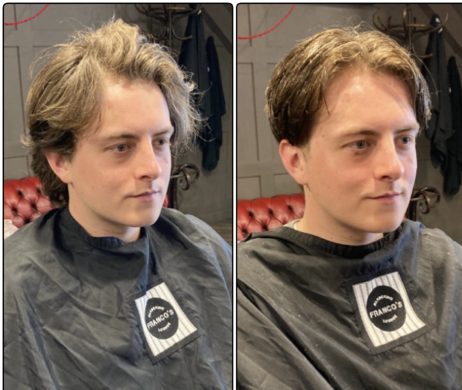 The before & after look above was from a recent client visit and highlights that short hair ideas for Summer don't have to be huge transformations to look superb as the warmer weather hits the city.
Delivering shorter hair for Summer is often more about understanding the head and face shape, tidying up key areas, ensuring the client is given advice on their hair type and the best products to use, as well as giving a thorough hair consultation at the start of the cut.
The client in the above example didn't want a massive change, so the main element of the shorter haircut for Summer was to remove the length and weight in the sides and back while keeping length on top.
The haircut was focused around the face shape, as well as ensuring that the top was well-conditioned.
Cutting in the back and sides helped to define the face shape, as well as getting rid of thick hair and giving a sharp Summer look.
Our newest hair styling and conditioning product is from American Crew Matte Clay Spray.
The client spent approximately 30 minutes in the chair, with the cut costing £31.
We recommend that clients re-visit for a tidy-up every 4-6 weeks: this is classified as a maintenance haircut for men.
Over six weeks between client visits and it is then classified as a full re-cut.
We have an awesome range of men's hair products, men's hair styling products, men's grooming products, and beard care products at our online shop – please visit here to find out more.
Why not also check out our Bristol Mens' Hairdressing Blog to get free hints and tips on seasonal hair care, hair styling and more.
To find out more about the full range of services at our Bristol men's salon, simply get in touch via info@bristolbarber.com and mention this blog post.