The team at Franco's Barbering Lounge all enjoyed a full-day workshop recently, so if you're looking for men's long hair barbers in Bristol, we can help.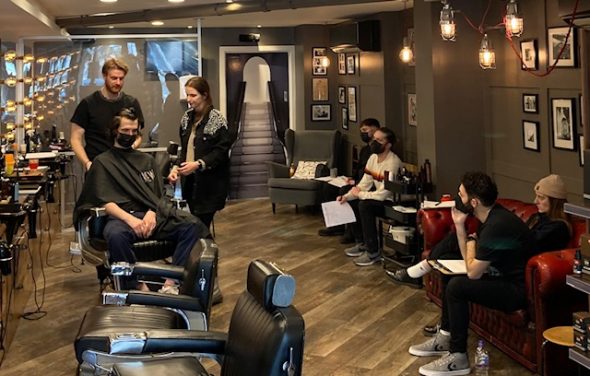 Our Gloucester Road barbers have been working with long hairstyles for men for years, and this has increased since the lifting of lockdown, as more clients are going for longer hair lengths and looking for creative inspiration.
The entire team of barbers at our Bristol men's hair salon attended a workshop with a long hair specialist from American Crew.
The day involved working with live models in the shop, and the course was tailored specifically for our needs.
The focus of the education was on the DNA of men's long hair which also included the following elements:
Consultations for men with long hair
Techniques for cutting men's longer hair
How to style longer hair on men
Cleaning and conditioning men's long hair
The demand for long hair barbering in Bristol has soared in the last 12 months, and our team of men's hairdressers were keen to find out more about ways in which we can deliver even more amazing results for our clients.
The national educator from American Crew showed the team how to prepare and prime men's long hair, the way to cocktail men's hair products for the best results on long hair, and how to use razors to awesome effect on long hair.
There were loads of hints and tips given on the day, such as taking the bulk out of longer hair but retaining length to prevent hard lines in a creative cut.
We were also given an early look at new hair products for men with long hair that will be hitting the shelves soon. Keep an eye out for them!
Here are some of our favourite styling and conditioning products for men with long hair to try – all available from our Bristol barbershop.
Find out more here on how to maintain long hair for men.
To find out more about how our Gloucester Road barbers help men with long hair to get awesome results, simply get in touch via info@bristolbarber.com and mention this blog post.