Many of our clients have been getting in touch in the last fortnight, asking for advice on maintaining longer hair for men in Bristol lockdown.
So we've decided to put together a blog post with dedicated tips, as well as a round-up of our favourite hair products for men with longer hair, to ensure that your longer locks stay in awesome condition until our barber shop re-opens.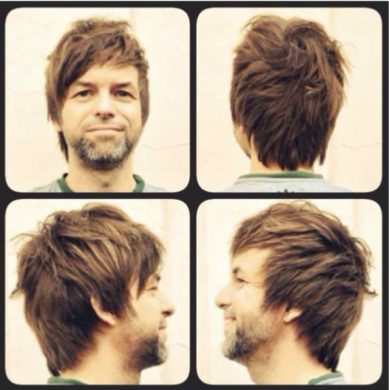 With Bristol barbering salons being temporarily shut since late March, men with longer hair are now struggling to keep it in condition, well hydrated, and looking as good as it can, irrespective of hair length.
Some men's hair products for longer hair are focused on keeping it soft and moisturised. Long hair can look amazing, as long as it's in top condition.
We recommend a range of men's longer hair products, some of which are designed to be used after shampooing, whilst others work best as leave-in conditioners, giving steady moisture and hydration over a period of time.
Daily conditioners for men with medium and long hair are ideal for quick, low-maintenance hair care during Bristol lockdown, but during challenging times such as these when men's hair is growing and conditioning needs a boost, we recommend utilising more intensive hair care products to help longer hair.
Longer hair dries up quickly, and needs more support, moisture and attention.
So, in no particular order, here are our favourite hair products and conditioners for men with longer hair to try during the Bristol lockdown:
Moroccan Oil £13.45
This is one of the best leave-in conditioners available for men with long hair. It retains moisture and is perfect for when clients' hair is getting longer in lockdown.
EVO Liquid Rollers £20
This men's hair care product from EVO is another leave-in conditioning and hydrating product to use in lockdown to maximise hair health. Simply wash hair, towel dry, then apply. It thickens, conditions, hold and hydrates all in one.
Liquid Rollers will leave all hair types feeling soft, and easy to manage, and are superb for conditioning longer hair on men.
American Crew Light hold Texture Lotion £16.50
One of our most -popular men's hair products, this is superb for medium to long hair, and especially well-suited to fine hair. Simply wash and towel dry hair, then work in to give a low-level shine and retain moisture for hours. It's a winning men's hair care product for longer hair lengths.
Triumph & Disaster Shampoo and Conditioner £10 each
These are 100% natural men's hair care products, made from organic ingredients and designed to de-tangle and hydrate long hair during lockdown.
These products can be purchased together for £15 – simply mention this blog post when you place your online order with us for delivery within Bristol.
All of the above products can be ordered directly, by simply contacting us on admin@bristolbarber.com.
We recently provided some free tips on men's hairstyling at home, whether your hair is medium or longer – you can read the full blog post here.
To keep up-to-date with the latest male hair care hints from our team of experts on Gloucester Road, please visit our barbering blog here.
To find out more about our central Bristol men's hair salon, contact us here.