With lockdown lifting, and our Gloucester Road barber shop re-opening, we've had lots of clients asking what are the best styling and conditioning products for men with long hair in Bristol.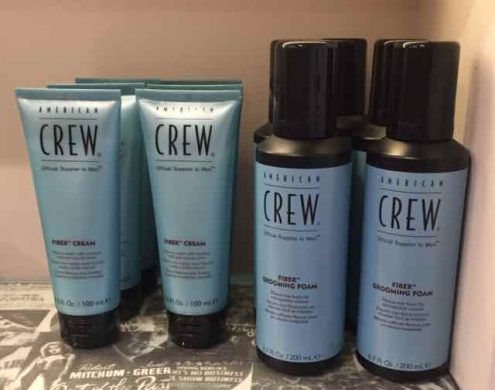 Many clients have opted for longer hair, having let it grow through the Covid-19 lockdown across the city.
Our team of Bristol barbers are seeing more and more gents wanting to style and condition longer hair instead of going straight away for popular men's haircuts such as skin fades and short back and sides on their first visits back for a few months to our Gloucester Road men's hair salon.
So, if you're considering keeping your hair longer, but are unsure how to style and condition longer hair for men, we'd recommend the following products:
Moroccan Oil
This is a superb leave-in conditioner, which is easily applied into the hair, and gives moisture, shine, and prevents long hair from drying out. Only £13.45.
TIGI Small Talk
Part of the awesome Bedhead range, Small Talk comes in a funky purple ball and is perfect for daily conditioning of longer hair for men. And only £16.95.
Fibre Grooming Foam
This top-selling long hairstyling product from American Crew delivers a non-sticky volumizing mousse, which works quickly into hair. Costs £13.95.
Fibre Cream
Another great long hair product for men from American Crew, Fibre Cream gives good hold for longer hair and only costs £13.95 in-salon.
Long hair styling for men is also a popular option at the moment, and our team of barbers on Gloucester Road are ready to give expert advice.
We've now got three barbers operating at any one time, all observing social distancing requirements, offering a calm and tranquil environment, as well as being Covid-safe and stress-free for clients.
Retail has been flying out the door of our Bristol barber shop, and many clients have been changing their usual hair products because of longer hair.
It's been an awesome start back after the salon closure, and client feedback to our recent email campaigns around Covid-19 has been superb. We've worked hard to give our clients complete confidence, and our Covid-safe Bristol barber policy is delivering confidence to clients that we are operating within a high level of safety and practicing all required Covid-19 safety measures.
To book your post-lockdown men's haircut in Bristol, please visit here online and schedule in your appointment.
To keep up-to-date with the latest men's hairdressing and male grooming from our team of Bristol barbering experts, please visit our barbering blog here.
To find out more about our Gloucester Road men's salon, contact us here.