The New Year is well and truly with us, and clients have been asking what's new for 2022 in Bristol from the best barbers on Gloucester Road.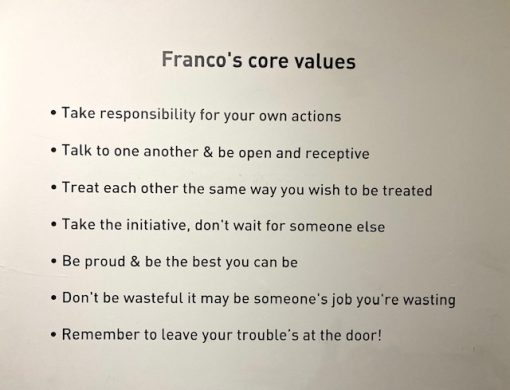 One of the most exciting new things for our clients in 2022 is our new Recommend A Friend scheme.
Every time a client recommends a friend, they get 20% off their next hairdressing service with us. The friend also gets a 20% discount too.
The referral can be a friend, work colleague or family and is applicable to hairdressing services not retail.
Check out what our clients have been saying about our barbers on Gloucester Road recently from these awesome reviews.
We have an expanding team of superb barbers in Bristol and great feedback coming in weekly for Aga, Millie and Luke.
Recent client comments include:
"A great atmosphere in many ways. I had my hair cut by Millie, who not only was a great conversation but also gave me a brilliant trim. I sat down and in the least helpful way possible, didn't really know what I wanted."
"Despite my lack of helpfulness, I was delighted with the outcome. Big up Franco's and big up Millie – I've found my regular!"
"I had my hair cut here yesterday with Luke. I showed a few pics of the style I wanted and we were immediately on the same page. I really enjoyed him describing the process of what he was doing, and I was informed about details of my hair in a way I hadn't been told before."
"I came away feeling great because the hair was exactly what I wanted and it had great texture. It was excellent value with Luke too, as he had just started at Franco's. They have an App where you can see which barber charges what on what days. Highly recommended."
"I was handed over to a lovely woman called Aga who is simply brilliant at her craft. She spent a lot of time ensuring she had done the best job."
"I left feeling confident and happy. I really can't see myself going anywhere else in the future."
Check out these reviews on our website and see our reviews on Google.
Many clients feel in a stalemate with their hair following months of Covid-19 restrictions and lockdowns. They have grown their hair out, but are unsure what to do with it. we can help!
Clients are increasingly unsure whether to trim it or keep growing it.
This is where our detailed and free hair consultations come in so useful. We are massive on men's hair consultations and have a great team headed up by a Master Barber, to ensure each and every client is delighted.
We ask our clients questions such as:
"What do you really like and dislike about your hair?"
"If you could change one thing about your hair what would it be?"
"What one thing would you like us to do for your hair today?"
With a New Year, clients often look to flip their look by changing it up for a new look.
This could be, for example, long to short hair. Or it could be to try out something new such as working with long hair or curly hair.
Just ask one of our team for further details when you see us.
To contact us, simply get in touch anytime via info@bristolbarber.com.