Now that our Gloucester Road barber salon is open again, many of our clients are looking for men's hairstyle ideas after the latest Bristol lockdown.
Our talented team of Bristol barbers are on hand to give you free advice.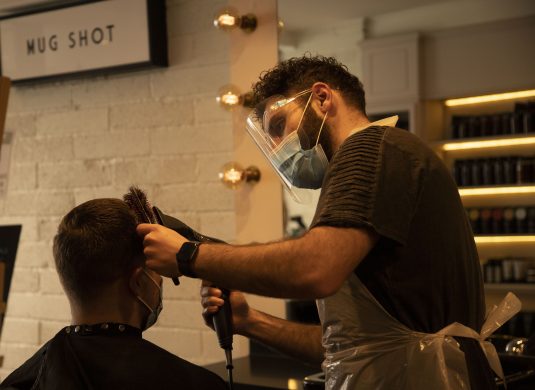 One of the most noticeable changes in men's hairstyles in Bristol after previous lockdowns has been the number of clients growing their hair longer and looking for advice on longer men's hairstyling from our team.
This also includes hair care tips and the best men's hair care products.
With lockdown lifting as Spring has recently started, a new season is also a good time to try something new and different for the year.
All men's hairdressing appointments at our central Bristol men's salon include a free hair consultation, so if you have an idea of what you're after for a new hairstyle, or a longer look just ask one of the team during your consultation.
It's also a good idea to bring along pictures of your favourite actors or band members with you, as well as magazine cuttings of strong looks you like.
Saving images on a smartphone to reference is a quick and easy idea.
We're seeing many clients who have had tight trims in the past opting for short hair at the sides and back, with longer hair on top and a full beard.
Gents with longer hair from the last lockdown are looking to have the tips tidied up, neatened, and scissor cut to blend it down.
Our team of expert men hairstylists on Gloucester Road can provide advice on longer hairstyling, the best conditioning and styling products, and which of our product ranges are best to condition, hydrate and moisturise longer hair.
We have men's hair products available from American Crew, EVO, TIGI B for Men, Triumph & Disaster and Moroccan Oil via our online shop.
Longer hair on men looks great, especially when well maintained and through the application of the best hair products to keep it healthy and full of shine.
If you're wondering what a Covid-safe Bristol barber shop should look like, why not read this blog post to find out more.
To book online for your next appointment with our awesome barbers in Bristol, either visit here or find out how to download our new App here.
To contact us, simply get in touch anytime via info@bristolbarber.com.