Following recent Government guidelines provided in a 42-page document, we wanted to ask the simple question: Is your Bristol barber Covid-safe?
We've had awesome feedback from our clients since re-opening recently, and thought it would be useful to provide a full run-down of our increased safety measures in-salon, so clients old and new have complete confidence in us.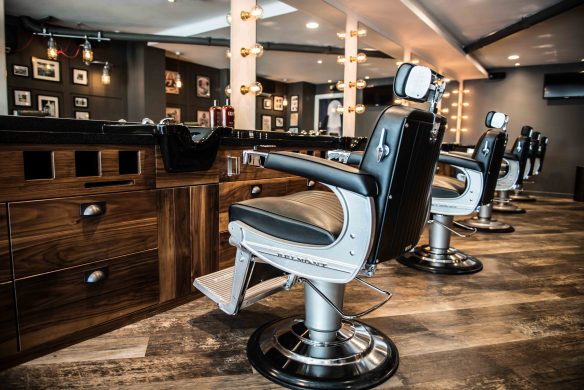 We place the safety of our clients and barbers as our main priority, and have followed official and industry guidelines to ensure we are Covid-safe.
The measures we are utilising at our Gloucester Road barber salon include:
All team members wearing face shields and not just a face mask
Hand sanitiser provided for all clients on arrival for their appointment
Appointments online only, with no walk-ins or queues outside the salon
No beard or male grooming services offered until further notice given
All clients to wear a face mask whilst in-salon (we can provide these)
We also ask all clients a simple five-question survey when they arrive and before they enter the salon, including: Do you have any Covid-19 symptoms, Do you have a temperature, Do you have a dry throat, Do you have a cough, Have you been in contact with anyone diagnosed with Covid-19.
There are no early or late appointments being accepted, and we ask clients to bring a bare minimum of possessions into the salon with them, so no bikes, bags or rucksacks, with clients' coats being folded and placed on their laps.
Our team wash their hands before and after each client service, and all stations are sterilised and cleaned thoroughly. Disposable aprons are used.
We also have a reduced service menu, with four main men's haircuts:
Post-lockdown haircut (covering 14-15 weeks of growth)
DIY (client has cut their own hair in lockdown and needs our help)
Longer length retained (lockdown hair is restyled with retained length)
Clipper haircut (post-lockdown hair is restyled short with clippers)
Our standard hair consultations for men are now longer, to incorporate extra time needed for clients with longer hair and/or loss of shape and condition.
This is to ensure that we provide full and thorough consultations for our clients. Since re-opening, for example, 50% of our clients have retained longer hair and fringes, with restyling of longer hair being more popular.
All scissors, combs and clipper guards are left in disinfectant for 20 minutes after each client service, and we only use paper hand towels in-salon. A fresh gown and towel is used for every client, and each gown is immediately put into a 60-degree wash after use. Foot pedal bins are also in use in-salon.
After every haircut, each station is cleaned down, including the chair, sink and column all being thoroughly disinfected. We allow 10 minutes to prepare each column for the next client visit.
To cover the additional costs of PPE and cleaning materials, we have introduced a £1 Covid-19 charge on all of our hairdressing services. When it is safe to do so, we will remove this cost to clients after official advice.
We have also introduced a tiered price system, based on barber level – so the cheapest cuts are with Apprentices, then Junior Barbers, then Qualified Barbers, and Master Barber Franco Lombardi. Please ask for further details.
We have two teams of barbers working alternate days, and across split shifts covering increased hours from 8am to 8pm on selected days. We are also working on Sundays for the next six weeks, to cover current client demand.
We are maintaining all recommended practices around social distancing, hand washing, the use of PPE, cleaning the salon and utilising best-practice.
To book your next post-lockdown men's haircut in Bristol, please visit here online and schedule in your appointment.
To keep up-to-date with the latest men's hairdressing and male grooming from our team of Bristol barbering experts, please visit our barbering blog here.
To find out more about our Gloucester Road men's salon, contact us here.