We may still be unable to see our lovely clients, but now is a great time to share tips from our Bristol barbers for beard grooming and moustache maintenance during the latest lockdown.
It's difficult to keep up with male grooming during the current Covid-19 lockdown, but our team of barbers on Gloucester Road have some top tips to help clients maintain beard grooming and moustache trimming.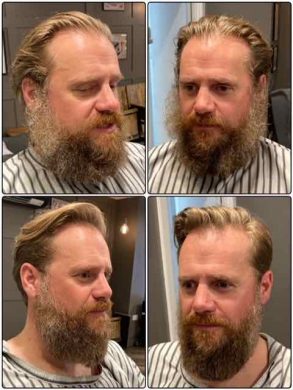 One of the first issues that many guys face is having a messy beard, which can look curly, frizzy and dry. We recommend simply applying more product, to ensure that all beard hair remains hydrated, conditioned and looking good.
One of the best beard conditioning products our clients love to use is American Crew 2-in-1 Skin & Beard Moisturiser. It's available here at our online shop.
It's available for only £14.50, and is awesome when it comes to straightening up beard hair. Simply apply daily for best results in lockdown.
Another best-selling beard care product we stock is American Crew Beard Balm – buy it here.
This is a superb beard styling product. Just work into the beard with hands, in a downwards motion, then straighten out the beard. It's great for uncurling beard hair, and is perfect for straightening moustache hair, as well as managing unruly hair under the bottom lip. Just work it flat into the skin.
Beard trimming in lockdown can also be a tricky task, but clients can get a great deal on our favourite beard clippers. Wahl Super Taper Corded Clippers are on offer now – purchase them here while stocks last.
Try using a smaller grade at first, and work down with the grain of the skin. Sides can be trimmed tighter in, cut length from the chin, then blend in the lengths with a fanning movement.
The Wahl styling clippers are awesome for creating structural beards, making it easy to cut the line of the cheeks in and keeping the look clean around the neck.
Our Bristol barbers also recommend using American Crew Precision Shave Gel to keep beard trimming looking tight and sharp.
It's a translucent gel, and is best suited for trimming cheeks and neck areas. Buy it here on sale with 50% off for a limited time while stocks last.
When it comes to beard shaving well-defined lines, our favourites product to use in lockdown is American Crew Ultra Gliding Shave Oil. It's been specifically designed for shaving beard lines. Buy it here, again with a 50% discount, in our Lockdown Sale.
Finally, when it comes to moustaches maintenance in lockdown, it's best to use scissors to trim moustache hair, or possibly small detailed clippers.
Our favourite product is American Crew Moustache Wax – available to buy from our online shop here.
It's a strong product, perfect for styling moustaches of any length or shape.
Our Master Barber Franco Lombardi is also offering clients FREE online-based hair and beard consultations during lockdown – please visit here to find out more.
To contact us, simply get in touch anytime via info@bristolbarber.com.