The expanding team of men's hairdressers at Franco's Barbering Lounge on Gloucester Road have been delivering more top men's haircut recently, and one men's haircut in particular impressed a client on a visit to our barber salon.
So much so, that we wanted to highlight it here on our Bristol barbering blog. It's a complete transformation look and the client was delighted with the results – this was a classic example of Men's Restyling.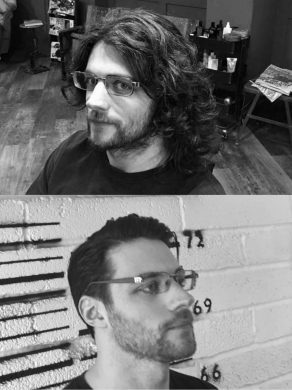 The client pictured above hadn't cut their hair in 18 months, and wanted to get a sharp new look for an imminent wedding of a friend. Our free consultation showed him the options, and he opted for a full men's hair restyling.
The client consultation took in the region of 15 minutes, and was designed to give him full confidence in the new look – particularly because he hadn't visited a barber in months.
The hair was firstly shampooed and conditioned, using TIGI Small Talk an awesome 3-in-1 hair product for men that thickens, conditions, and adds volume.
Next, the hair was cut in horseshoe sections from the back and sides using scissors not clippers, and disconnected on top.
The length was left on the top to suit the client's head shape, with the top layer taking the weight of the remaining hair.
Using TIGI Small Talk encouraged the curls left in the hair to shine, whilst the beard was also trimmed and tidied up to create a stunning total men's restyle.
The total time in the chair was around 50 minutes, with the men's hair restyle and beard trim costing £50.
Ask in-salon for our new men's restyling appointments and book in this week.
To find out more about our Gloucester Road barber salon in Bristol, contact us here.