Now that we're moving through a new season it's time for Franco to share his best Autumn hair tips for men in Bristol from our Gloucester Road salon.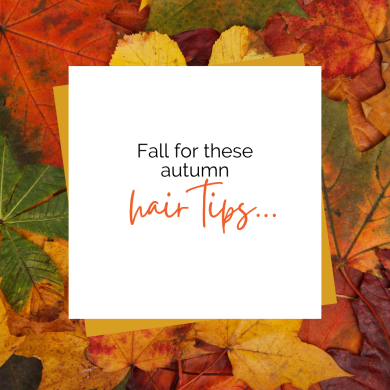 Repair sun-stressed tresses
Summer sun, chlorine and sea salt can leave hair dry and brittle, and your hair colour faded.
So, kickstart your Autumn with a trim.
Saying goodbye to those sun-damaged split ends will instantly refresh your look and prepare your hair for the new season.
Your scalp can suffer too becoming dry, itchy and irritated. Try scalp toners or an exfoliating scalp mask like American Crew Refreshing Shampoo for £15.50.
Next up, hair hydration
Using a deep conditioning treatment or hair mask at least once a week will replenish your hair's moisture levels and combat dryness.
Add Moroccan Oil to nourish your hair from roots to tips, helping restore the moisture lost during the hot Summer months.
Leave it on and let it work its magic – it's packed with hydrating goodies to lock in moisture, reduce frizzing and boost shine.
Moroccan Oil is available for £13.45 for 25ml or £32.85 for 100ml.
Fall for new cleansing routines
Chilly, blustery weather and dry heating combine to strip your hair of its natural moisture, leaving it brittle and prone to breakage.
Switch to a hydrating shampoo and conditioner, like EVO The Therapist Shampoo (available for £19) and Conditioner (available for £21) which are formulated to replenish your hair's moisture content, leaving it soft, manageable, and shiny.
Tempting as standing under a hot shower on a chilly morning, hot water can also strip hair of essential oils, leaving it dry and dull. So, wash your hair in cool water instead. As a bonus it will help keep your colour vibrant and fresh too.
Franco's other top tip is to reduce shampoo frequency, as overwashing can strip your hair of its natural oils. Use a dry shampoo once a week, such as American Crew Boost Spray available for £16.05.
Chill out this Autumn
As the temperature drops you may be tempted to use your heat styling tools more often to tame your mane.
However, overuse of hot tools can strip your hair of its natural oils, causing breakage and frizz.
Try to minimise their use by opting for natural drying whenever possible. And explore heatless styling ideas which cause less damage.
One way to help protect your hair is to try a hair product cocktail during Autumn and Winter.
Franco recommends mixing Moroccan Oil for hydration with American Crew Control Foam for moisture and volume, finished off with American Crew Liquid Wax for hold.
When you do use your heated tools always apply a heat protectant like Moroccan Oil to shield your hair.
Say no to frizz this Fall
Suffering from frizz? Try Franco's top frizz-and-frazzle-fighting tips for smooth operators:
Cut back on heated styling tools.
Get regular trims to remove dry split ends.
Use specially formulated anti-frizz products.
Overbrushing can damage the ends causing frizz.
Avoid washing your hair too often.
'Blot' your hair (don't rub it) after washing.
Need some advice? Ask your stylist at your next appointment – we love to help.
Why not book a complimentary consultation with us for your personalised Autumn hair care plan. Call 0117 944 6265 or book online here.
If you're wondering what our Bristol men's hairdressing team can do for you, visit here to find out more.
Franco's Barbering Lounge
Average rating:
0 reviews