Spring is here, and it's time to take a closer look at what our Bristol men's hairdressers can do for you during the new season.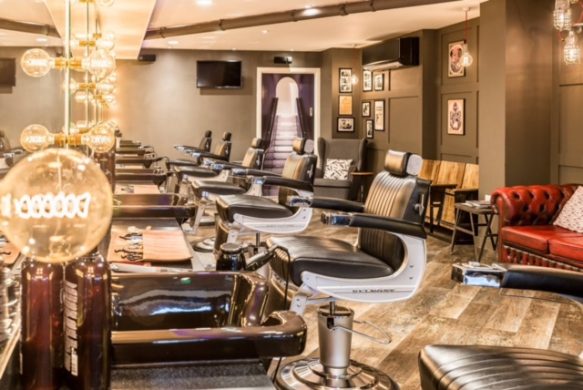 Men's hairdressing in Bristol is about far more than sitting in a chair and having a clipper haircut delivered. We provide bespoke advice every time.
We recently talked about some of the things you should expect to see from the best men's hairdressers in Bristol. Visit here to find out more.
One of the areas we focus on with all clients is hair consultation.
Men's hair consultations at Franco's Barbering Lounge are ongoing, and not just a quick chat at the start of the service.
A thorough men's hair consultation from our Bristol barbers provides every client with unique and bespoke knowledge about their hair and hair care.
Visit here to find out why our hair consultations are the best in Bristol.
We talk with our clients about 'The Cycle of Hair' and how this impacts their hairstyling options and hair care routine.
We help out clients to understand their hair and to explain to them the science of hair. A good Bristol men's hairdresser explains not cuts.
Our Gloucester Road barbers explain the cycle of haircuts, and how each client can maximise their hair cycle for the best results.
A good men's hairdresser in Bristol will outline the vision of a client's haircut, rather than just cut it. We are not a £10 barber but offer a high level of service at all stages of a client's visit to us. This includes product knowledge.
We only advise a client if we feel it is necessary, rather than trying to sell additional services, or additional products, or to push clients into clipper cuts.
We have one client, for example, who visits us every fortnight for a back and sides hair maintenance cut.
This client also visits us every four weeks for a grey hair coverage service and beard tidy.
The client gets a bespoke service with the very best hair product and grooming product recommendations each month, specific to his hair type.
Does your Bristol men's hairdresser provide you with this level of service?
If not, it might be worth booking in to see one of our expert team.
Check out our Bristol Gents Hairdressing Blog to get free hints and tips on hair care, hair products, and how to keep your hair in amazing condition.
To find out more about the full range of men's hairdressing and men's grooming services at our Bristol barber salon, simply get in touch via info@bristolbarber.com and mention this blog post.
Franco's Barbering Lounge
Average rating:
0 reviews