Many of our clients come to us looking for information on the myths about men's grey hair, and our team of Bristol barbers is always happy to guide and advise further.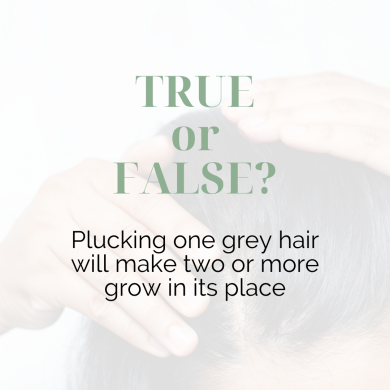 There is so much bad advice and false information out there about grey hair that our clients arrive at our Gloucester Road salon looking to get a clearer idea.
For example, here's one:
TRUE or FALSE?  Plucking one grey hair will make two or more grow in its place.
Is this true or false? Most definitely FALSE.
Plucking grey hair won't lead to more greys. However, repeated plucking might damage the hair follicle and possibly result in hair loss. So, it's best to leave them be.
It can be confusing and time-consuming trying to work out the myths about men's grey hair.
Most of us will succumb to grey hair at some point, but that doesn't mean it can't be delayed or dealt with in a manner that leaves clients delighted with their overall look.
Franco's top tips for grey hair include:
Grey hair can be dry and wiry. Use moisturising shampoos and conditioners to keep it soft and manageable.
Pollution, sunlight and chlorine can give grey hair a yellow tint. Try a grey hair shampoo once a week to neutralise yellow hues.
Grey hair can be naturally glossy. Boost shine with a lightweight hair oil or serum like American Crew Light Hold Texture Lotion available for £20.35.
Choose sulphate and alcohol-free products as they are less drying.
Remember you don't have to live with your natural shade of grey or silver.
We can give you a stunning colour or create a bespoke silver shade to lift your natural colour and flatter your eye and skin tones.
Why not book a free consultation and we'll chat through your grey hair care concerns and suggest the best treatments and colours for you?
From November until 3rd December  2023 we're offering 20% off your first grey coverage service, or a free treatment for all existing grey coverage clients.
Simply mention this blog post promotion when you book with our team.
Call 0117 944 6265 or book online here. It is also worth visiting this blog post to find out more about our grey hair coverage service in Bristol.
Franco's Barbering Lounge
Average rating:
0 reviews