One of the more popular services we've been offering clients in 2023 is that of grey hair coverage for men in Bristol.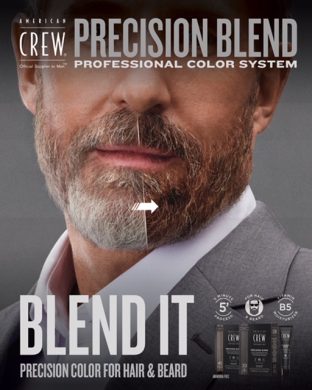 It's a sensitive subject for some guys, but the onset of grey hair in the beard or hair areas can be upsetting and cause stress for some clients.
Whilst other clients welcome the grey hairs without any objections, some of our clients ask for help with grey hair coverage for their hair and beards.
We don't advocate or deliver a completely new hair colour for men in Bristol.
Our grey hair coverage service is far more subtle than that. What we aim to do is blend in a new colour with the existing hair, rather than take the hair back to a jet black or much darker brown colour.
Our grey hair coverage service reduces up to 50% of grey and white hairs by 25%, and this semi-permanent grey hair coverage lasts for up to 30 washes.
Using the tried-and-tested product Precision Blend by American Crew we are able to complete a beard grey hair coverage service in around 8 minutes, and a hair grey coverage service within 10 minutes. Prices start from just £10.
It is important to note that all clients must have a skin test 48 hours before a grey hair coverage service at our Bristol salon, to ensure no allergic reaction may occur with a client's skin.
We can work on blonde, brunette and black hair to provide grey hair coverage for these hair colours in-salon.
Ask for more details when you visit us.
Don't forget to also check out our Bristol Gents Hairdressing Blog to get free hints and tips on hair care, hair products, and how to keep your hair in amazing condition.
We also provide full and thorough hair consultations for clients, giving advice on their specific hair requirements as well as the best hair care products.
To find out more about the full range of men's hairdressing and men's grooming services at our Bristol barber salon, simply get in touch via info@bristolbarber.com and mention this blog post.
Franco's Barbering Lounge
Average rating:
0 reviews