It's that time of the year when clients are looking for top tips on how to care for a beard. And so, here's some advice from our Bristol barbers.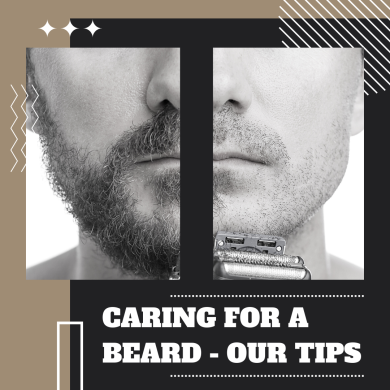 Whether you're already a beard enthusiast, are considering growing one for warmth this Autumn and Winter, or maybe you're growing a moustache in support of Movember, here are our professional tips on how to care for your beard in Bristol:
Just like your hair, use a gentle shampoo free from harsh chemicals to avoid skin irritation and keep your beard hair healthy and shiny.
Beards can get dry and rough, so keeping them moisturised is key. Use a beard oil or balm post-shower to lock in the moisture and keep those strands soft and manageable.
Combs aren't just for the hair on your head. A good quality beard comb will help detangle and style your beard, reducing breakage. It's also a great way to distribute beard oils evenly.
Don't forget the skin under your beard. Use a facial cleanser and moisturiser that suits your skin type to help prevent dry skin, flaking and even 'beardruff'.
Trim regularly to maintain shape, remove split ends and encourage healthy growth.
These top tips are also applicable to those with various styles of moustaches.
To celebrate this year's Movember event, Franco has also announced the following special deal:
During November 2023, we're offering 20% off our extensive range of beard products, we'll even donate £1 for each beard product purchased to Movember.
Check out these best-selling beard grooming products.
Also, we're offering a complimentary beard experience with selected barbers if you fancy a bit of a pamper for your beard or moustache.
Franco also recommends reading this blog post on how to manage beard weight.
If you'd like a professional beard trim this Autumn, book in with one of our beard care experts by calling the shop on 0117 944 6265 or by visiting here.
Franco's Barbering Lounge
Average rating:
0 reviews