We often get clients coming to see us and asking how to manage their beard weight and shape in Bristol.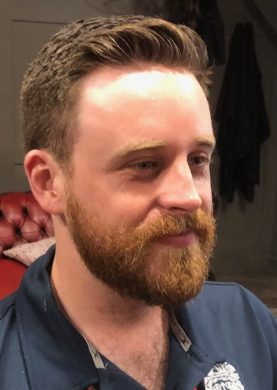 Having a beard in a mess and being unsure what to do about it can be stressful. Nobody wants an unruly, dry, frizzy beard at any time of the year.
When managing beard weight, it is often the case that lots of length doesn't have to come off. It is usually to do with the beard condition.
We use bespoke scissors, not clippers, to deliver beard grooming services.
If beard hair is dry, frizzy and in poor condition, it is vital to put moisture back in. We can also control the sides of a beard shape, depending on the overall haircut and hairstyle a client wants.
We generally advise tapering the haircut into a beard and blending it with the sides taken in. The length can then be retained at the bottom of the beard.
Scissors are used to follow the jawline and maintain it tight into the sides. It is not recommend that clients try to fix their beard eight or beard shape at home, as they can often cause more damage, which costs more time and energy to resolve.
Most problems associated with beard weight and beard shape can be rectified by visiting one of our team and getting the right consultation with the best beard care products available in Bristol.
We can also provide clients with different options, such as personalising a beard with a disconnected moustache for example.
All of the above will be discussed at the detailed initial consultation stage.
Prices for managing beard weight start from £9 depending on which level of barber you book with.
Please visit here to learn more about some of our favourite beard grooming products in Bristol.
We also offer a comprehensive beard care package – find out more here.
Why not book a beard consultation with Franco and the team by calling us on 0117 944 6265 and mentioning this blog post.
Franco's Barbering Lounge
Average rating:
0 reviews