We're really pleased and excited to be able to offer a comprehensive beard care package for clients in Bristol.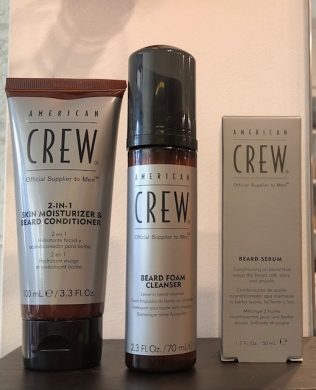 Beard care and men's grooming services have been hugely popular at our Gloucester Road men's hairdresser salon for some time.
Beards, moustaches and general face grooming are equally as important to our clients as men's hairstyling, creative cuts for gents and overall men's haircare in Bristol.
Our comprehensive beard care package consists of the following trio of awesome beard care products:
American Crew Moisturiser & Conditioner (retails at £15)
American Crew Beard Foam Cleanser (retails at £15)
American Crew Beard Serum (retails at £17)
Our men's beard care experts often cocktail these three products together, to produce a number of significant benefits for a beard care regime.
The Moisturiser and Conditioner act as Moroccan Oil for beards, protecting and reducing frizz in beard hair.
Beard Foam Cleanser will provide a thorough cleaning for beard hair.
Beard Serum softens and shines beard hair in one simple, effective application.
The cocktail of all three beard care products also has the added benefit of providing skin conditioning and skin moisturising around the neck, cheeks and chin areas.
These American Crew beard care products at our Bristol men's hair salon give a light not sticky finish and are suitable for all-day usage.
All three products can be blow-dried into the beard together if preferred.
We have a special blog offer: if you purchase all three Beard Care products together in the salon and mention this blog post, you get a 10% discount on the total price. This equates to a saving of nearly £5.
Please remember to mention the blog post before paying for the three items.
Our Bristol men's hairdressers also offer a unique and awesome Beard Experience, which takes your beard care routine to the next level.
This is delivered in-salon and can be booked here.
To find out more about the full range of men's hairdressing and men's grooming services at our Bristol barber salon, simply get in touch via info@bristolbarber.com and mention this blog post.
Franco's Barbering Lounge
Average rating:
0 reviews