We've got some awesome anti-hair loss products now available in Bristol from American Crew for clients looking to strengthen hair and prevent hair loss.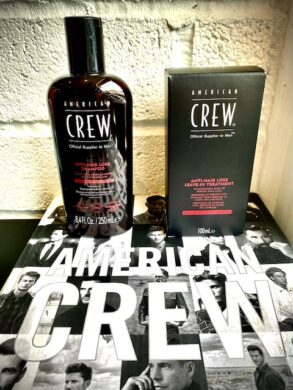 We have a new Fortifying Shampoo treatment product from American Crew in the salon to purchase which is designed to encourage blood flow to the scalp.
This anti-hair loss product can be used daily and is proving popular already.
American Crew Anti-Hair Loss Shampoo is now available at our Gloucester Road men's hair salon for £13.25.
We also have a mist spray that is used to massage the scalp and helps reduce hair breakages. This also stimulates the scalp and strengthens hair.
American Crew Anti-Hair Loss Leave-In Treatment is available for only £19.45 while stocks last.
These two anti-hair loss products from American Crew are the latest in the range from one of our best-selling brands of men's hair products in Bristol.
We also recently wrote a blog about how to prevent thinning hair. Read here to find out more.
To see our full range of hair care products for men, visit our online shop here.
We offer full and free men's hair consultations for all clients and can guide you on the best hair care products for your particular hair type and length.
Don't forget also to check out our Bristol Gents Hairdressing Blog to get free hints and tips on hair care, hair products, and how to keep your hair in amazing condition.
To find out more about the best men's hair consultations in Bristol, please visit here.
To find out more about the full range of barbering services, men's grooming products and hair products for men at our Bristol barber salon, simply get in touch via info@bristolbarber.com and mention this blog post.
Franco's Barbering Lounge
Average rating:
0 reviews