We've had a few clients asking our team how to prevent thinning hair at our Bristol barbers recently, so we thought a blog post on the topic would help.
When it comes to dealing with thinning hair or hair loss, the starting point is always a thorough and extensive men's hair consultation with our clients.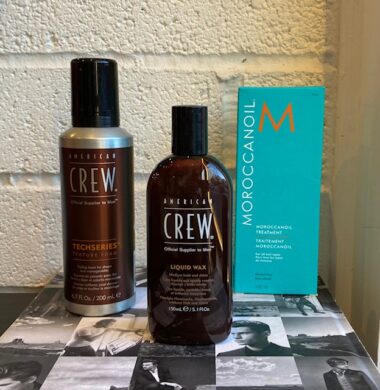 Thinning hair doesn't have to automatically result in it all being shaved off.
Our Gloucester Road barbers offer a more bespoke skilled service using scissors, not running a number one or two using clippers over the scalp.
Our Bristol barbers look at the alternatives to shaving hair off if it is thinning, fine, receding, or a combination of all the above.
In the UK, the go-to seems to be clippers and shaving it all off.
Abroad, in countries such as France, Spain and Italy men's hairstyling leans more towards retaining the hair and working with what is there to create a fuller look over time with the use of selected hair products and certain hairstyles.
The picture above shows some of our favourite men's hair products for thinning hair, and they offer a powerful combination of adding volume and thickness to hair.
The products above are Volumizing Mousse which gives volume to thinning hair, Moroccan Oil which reduces frizz and hydrates the hair, and Liquid Wax which thickens fine hair.
Fine or thinning hair can be grown out and styled. The products listed above can also help to give volume thickness and a different shape to fine thin hair.
We also have new products from American Crew in stock, designed specifically to help with hair loss in men.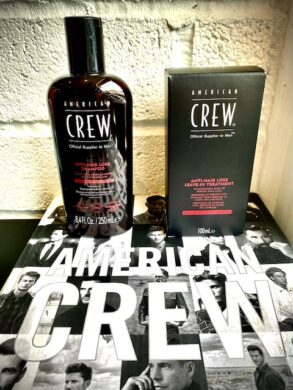 American Crew Anti-Hair Loss Shampoo is now available at our Gloucester Road men's hair salon for £13.25, while American Crew Anti-Hair Loss Leave-In Treatment is available for only £19.45 while stocks last.
Don't forget to also check out our Bristol Gents Hairdressing Blog to get free hints and tips on hair care, hair products, and how to keep your hair in amazing condition.
To find out more about the full range of barbering services, men's grooming products and hair products for men at our Bristol barber salon, simply get in touch via info@bristolbarber.com and mention this blog post.