We're really pleased and proud to announce that another of our Gloucester Road Bristol barbers has been promoted at Franco's Barbering Lounge.
Having joined us at the age of 16, Harrison has flown through his barbering apprenticeship and is now officially a Junior Barber with his own column.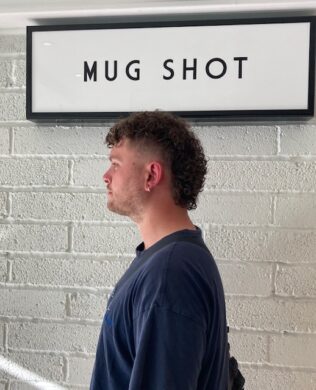 The haircut above is a recent example of Harrison's work – a classic Mullet.
As a fine example of homegrown talent, he has been taking guidance from Master Barber Franco over the last three years, as well as attending Reflections Hair Academy in Bristol twice a month for barbering training.
Harrison has successfully completed his NVQ Levels I, II and III in Barbering.
A great all-rounder, Harrison is competent and confident with both scissors and clippers. His column is growing, and he's already got a solid base of loyal clients who love his keen enthusiasm for men's hairdressing.
Harrison has made great advances in a short space of time, and his attention to detail and hard work are paying off.
Clients have given consistent feedback about the awesome level of detail paid during his men's hair consultations.
To make a booking online with Harrison, please visit here.
To see client reviews for the whole team of experienced men's hairdressers and men's grooming experts at Franco's Barbering Lounge, please visit here.
With the arrival of Autumn, why not check out this super seasonal men's haircut before you make your next booking.
Don't forget to also check out our Bristol Gents Hairdressing Blog to get free hints and tips on seasonal hair care, men's grooming tips, men's hairstyling and much more.
To find out more about the full range of barbering services, men's grooming products and hair products for men at our Bristol barber salon, simply