With Summer on the way out, many of our clients are starting to ask what's the best Autumn haircut for men in Bristol this year – and our team of Gloucester Road barbers have an awesome hairstyle to try for 2019.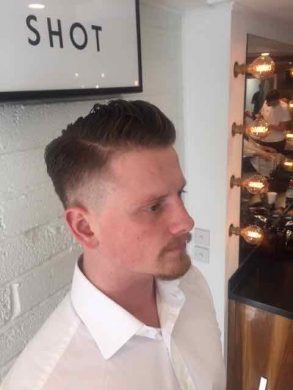 The seasonal hairstyle above is from a client visit, and highlights a perfect Autumn haircut for men at our Bristol barber salon.
This example delivers a low maintenance men's hairstyle, as well as a relaxed seasonal option for guys wanting a fresh but low-key look for Autumn.
This Autumn men's haircut was delivered by taking the back and sides tight, with the top more flowing and loose. It's a natural look, with low maintenance.
Utilising a skin fade look from the use of clippers, it also relies on less structure with less product used to give a simple but stylish men's haircut.
The finished look is sharp, and requires minimal daily styling so it can be a versatile hairstyle for both day and evening. Adding product would give a slick and styled look – ask our team for free advice during your consultation.
This Autumn haircut for men takes around 30 minutes in the chair, with prices starting from just £26.
If you're wondering what to do with your hairstyling for Autumn, come in and see our team of expert barbers on Gloucester Road. We can guide and advise you on the latest hot look and styles to try throughout the year.
To book online and guarantee a time and slot for your next appointment with our Bristol barbers, please visit here.
To keep up-to-date with the latest men's haircuts and male grooming from our team of experienced barbering team on Gloucester Road, please visit our barbering blog here.
To find out more about our team of barbers in Bristol, contact us here.