Nearly a month into the lockdown lifting, and it's been an awesome return to work for our Bristol team with a surge in new business to our Gloucester road barbershop.
It's been fantastic to see our regular clients returning for men's hairdressing and men's grooming services from our central Bristol barbers, but we've also had a huge rise in new clients visiting us.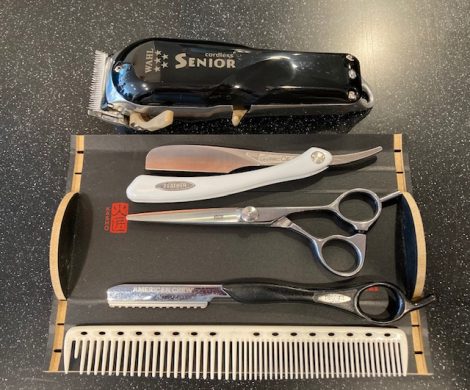 Most have found us via Google searches and personal recommendations.
The feedback our team of Bristol barbers has received from new clients has been amazing. New clients are loving the bespoke nature of our consultations, in which we always give expert advice tailored to each client.
Our men's hair and men's grooming consultations provide a unique level of professionalism from our experienced team of barbers on Gloucester Road.
We also provide hints and tips to each client on the best types of men's hair products and men's grooming products to use. Everybody is different.
Many of our regular clients are now purchasing more than one product with each appointment in-salon, and we've seen a massive increase in retail sales as a result. Haircare and beard maintenance are critical after lockdown.
Whether a client is a regular or a new visitor, most have individual hair and grooming problems and we always look to fix these problems for them.
The rise in popularity of longer hair on men. for example, also increases the need for superb hair conditioning regimes with world-leading products.
We often cocktail hair products when working in-salon with clients to give them awesome and rapid results – such as mixing Moroccan Oil with American Crew Texture Foam to set and hydrate hair at the same time.
We recently launched our Men's Hairdressing & Men's Grooming App has seen a great response from clients.
It allows quick and easy online booking for all of our services, as well as the ability to set up an individual account and manage your appointments.
The Franco's Barbering Lounge App also sync with our in-salon system, so we can re-book your next appointment with you, and it automatically updates at the same time on your App without you having to do a thing.
The App reminds clients the day before the appointment, as well as other cool features such as live waiting times and book-on-the-same-day facilities. This function is dependent on barber availability, of course.
We accept card payments and Apple Pay in-salon as well.
So, the entire team at Franco's Barbering Lounge are delighted to see clients returning, welcoming the surge of new clients, and loving the longer locks!
To contact us, simply get in touch anytime via info@bristolbarber.com.