We've had a few clients asking us the question What's the best men's hair care product to use in Bristol during the lockdown, and we decided to write a blog post on the subject.
Over the last 12 months and the Covid-19 lockdowns in the city, we've seen a number of clients growing their hair longer and finding it difficult to maintain healthy hair in great condition with our Gloucester Road salon being shut.
That's why we launched an online shop in the Autumn of 2020 so that our clients could buy their favourite men's hair care and men's grooming products easily.
Before Covid-19, men's hair in Bristol was all about styling. Now, we're finding clients are increasingly concerned more with hair care and hair conditioning.
Lockdowns across the city have highlighted the importance of keeping hair hydrated and nourished, especially if it's growing beyond the usual length.
One of our best-selling men's hair care products over the last 12 months has been Moroccan Oil. This is the original Argan-oil formula that changed the face of hairstyling.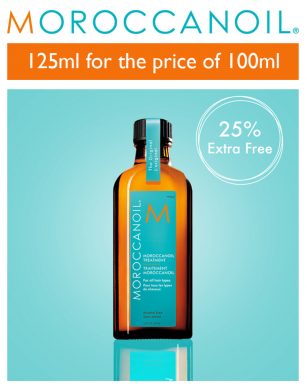 It can be used as a conditioning, styling and finishing product, which helps to restore damaged hair and is an incredible leave-in hair conditioning product.
Moroccan Oil works hard to repair hair by detangling, restoring volume and revitalising tired dry hair. It's awesome for medium and long hair on guys.
Using Moroccan Oil couldn't be simpler. Work 2-3 pumps into hair roots to ends on towel-dried hair that's been shampoo and conditioned. Leave it in.
We recommend that clients use this leave-in conditioning and hair care product daily, and is one of the best products available for men with damaged hair. Clients will see huge improvements in hair health within a few weeks.
Once hair health is visibly improved from using Moroccan Oil daily, we recommend that clients continue to apply it to their hair 2-3 times weekly.
Moroccan Oil is great for softening hair and reducing coarseness in men's hair. It leaves hair smooth, with a great shine and zero tangles.
To purchase Moroccan Oil from our online shop, and get a special 25% extra for free, please visit here.
To find out more about Moroccan Oil, visit their website here.
If you're unsure about how to maintain awesome men's hair in Bristol, why book a free online men's hair consultation.
To contact us, simply get in touch anytime via info@bristolbarber.com.