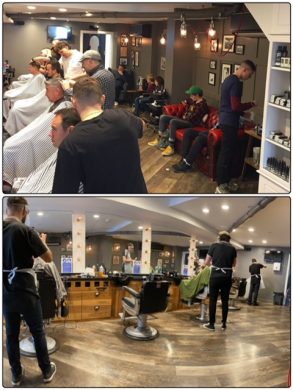 With so many changes for everyone this year, we thought it would be useful as we're in December to do a 2020 round-up from the best Bristol barbers on Gloucester Road, to highlight some of the positive things from this year.
There's been a different atmosphere in our Bristol barber salon, with walk-ins being halted due to Covid-19, and online bookings being solely utilised for clients booking in for men's hairdressing and male grooming services with us.
You can visit here to book your next appointment for 2021 with us online.
Making safety paramount has meant that the shop has become very calm, with our Covid-safe barber salon measures in place since the first lockdown.
We're observing hand sanitisation, cleaning chairs thoroughly between visits, as well as maintaining full PPE in-salon and social distancing requirements.
We're pleased to report that there have been no positive Covid-19 cases recorded at Franco's Barbering Lounge during 2020, and we intend to offer the same high level of Covid-safe barbering services to our clients in 2021.
New clients have come on board during 2020, with word-of-mouth spreading rapidly about the high level of safety and sanitisation in place in our salon.
This year has also seen clients experimenting with new hairstyles, new hair products, and new looks as longer hair has become something for more clients to contend with after 14 weeks without a men's haircut in Bristol.
Following the first lockdown, we saw a huge number of clients with longer hair, who wanted to keep their hair a bit longer than before. This has meant a sharp rise in the sale of related men's hair products, including styling and conditioning products for longer hair. This has continued throughout 2020.
Clients are now spending more time on conditioning their hair, and trying new styles with longer hair. We are guiding and advising all clients, as always.
The changes in how we operate on a booking-only system at our Bristol barber salon has also meant that our bespoke hair consultations for men have become even more popular than ever before, with so much positive feedback.
We don't do a quick chat in front of the mirror before getting down to a cut. Our men's hair consultations are detailed, in-depth, and throughout the course of each visit. Before the cut, during the cut, and after the cut. Every time.
Our Gloucester Road men's hair salon has survived two national lockdowns, given clients a consistently Covid-safe barbering experience in Bristol, and have nurtured our talented team along the way.
We also recently introduced a new Online Shop, where clients can purchase all their favourite Men's Hair Products and Male Grooming items – simply visit here to find out more.
To book in quickly and easily online for your next men's hairdressing or male grooming appointment at our Gloucester Road barber salon in 2021, please visit here.
The entire team at Franco's would like to thank all of our regular clients, give a huge welcome to new clients that have joined us this year, as well as wishing everyone a safe and calm festive break. We'll be here for you in 2021!