Autumn is with us, and the team at Franco's Barbering Lounge on Gloucester Road have an awesome special offer on Triumph & Disaster men's hair products in Bristol.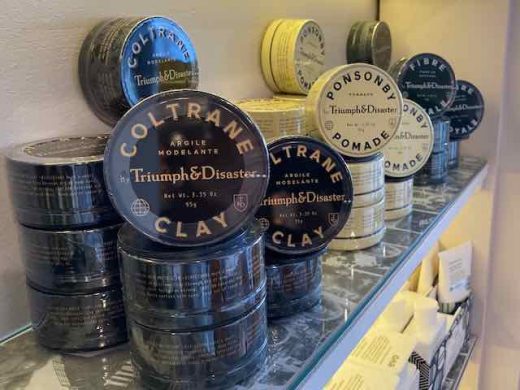 Triumph and Disaster are a New Zealand-based premium brand which we've been stocking at our Bristol barber salon for more four years. These high-quality men's hair, styling, grooming and conditioning products have been popular since 2016, and we've got an Autumn deal for our lovely clients.
The three top men's hair products from the Triumph & Disaster range are:
Coltrane Clay
Utilising white clay and beeswax, mixed with Pracaxi oil and Brazil oil, this medium-hold clay is designed to create perfect hold for clients looking for a matte, firm, healthy wave that's flexible enough for the whole day.
Simply work a small amount of Coltrane Clay through dry or damp hair, and style. Then get on with the day. It's a clean, simple, luxury men's hair product, best suited for shorter men's hairstyles.
Fibre Royale
This is a natural product which delivers strength and hold without adding volume or dulling natural shine.
Fibre Royale utilises a blend of beeswax, Argan oil, and Kawakawa to mould hair and treat the scalp. Simply work a small amount into damp or dry hair, and you're good to go.
Ponsonby Pomade
Completing the talented trio of premium men's hair products, Ponsonby Pomade contains Flax oil with Argan oil to attack split ends and promote healthy hair growth.
This is a unique pomade what delivers styling and hair care. It's a highly pliable hair product, well suited for longer hair which protects the hair from damage whilst also calming the scalp with natural, active ingredients that leave both hair and scalp feeling clean. It's a water-based, nutrient-rich product that is simply to apply and lasts all day on the scalp and hair.
These top quality, organic men's hair products usually cost £22 each at our Bristol barber shop. Mention this blog post and get a £5 off any of the three.
The vast majority of client visits are now being made by online appointment – visit here to book in.
To keep up-to-date with the latest men's hairdressing and male grooming from our team of Bristol barbering experts, please visit our barbering blog here.
To find out more about our Gloucester Road men's salon, contact us here.