If you're looking for a post-lockdown men's haircut in Bristol, we recommend that you read this before making a booking anywhere else.
Our leading Bristol barber salon on Gloucester Road has the most stringent safety measures in place, and has been super-busy since lifting of lockdown, whilst maintaining social distancing requirements for all staff and clients.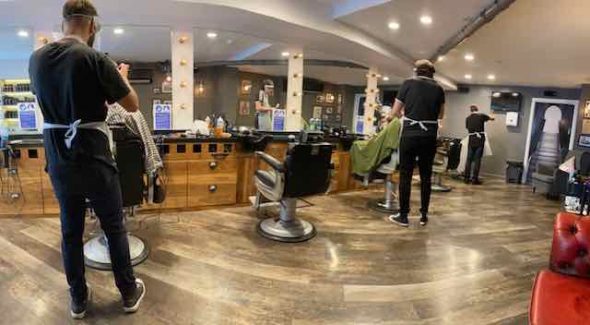 All client services now include a £1 Covid-19 charge, to help cover the additional costs associated with running the salon, such as extra cleaning products and PPE.
All of our Bristol barbers have been incredibly busy, and the client feedback has been awesome. We're providing a safe, calm environment with no waiting and online appointments helping clients to ensure they get their booking slots.
Since the lifting of lockdown, we've seen three types of client requirements, including those who want a post-lockdown men's haircut with short styling, those who are happy with longer hair and want it styled, and those who have attempted their own DIY cut in lockdown and need us to sort it out for them!
Walk-ins are available, but are subject to Track & Trace – whereby we must by law take a client's name and number for reference. The vast majority of client visits are being made by online appointment – visit here.
We recently wrote a detailed Blog post outlining what a Covid-safe Bristol barber shop should look like, based on official guidelines, and the kind of measures we've got in place at our Gloucester Road men's hair salon.
Read the full blog post here to find out more.
To book your next post-lockdown men's haircut in Bristol, please visit here online and schedule in your appointment.
To keep up-to-date with the latest men's hairdressing and male grooming from our team of Bristol barbering experts, please visit our barbering blog here.
To find out more about our Gloucester Road men's salon, contact us here.