The New Year is here, and many of our clients are asking the team what will be the male grooming trends in Bristol for 2020. Male grooming products will be the first focus for the year with new products being launched.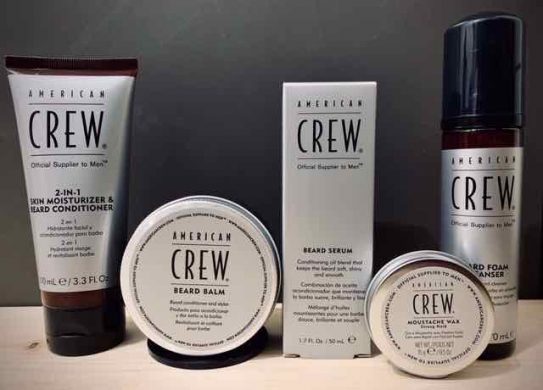 When it comes to male grooming, beards, beard trimming, beard shaping and beard care remain the number one element for our clients – and this has been evident since 2010, when beards became super popular for guys.
We're now selling more male grooming products in Bristol than ever before, with clients often buying two or three products per visit. The American Crew range pictured above remain are our highest-selling range for 2020 so far.
The American Crew Acumen range is a new and upmarket offering, focusing on skin care, exfoliation, hydration and wrinkle reduction for men. These new male grooming products focus on facial pampering, and start from £25.
Clients who are looking to bring more life to their moustaches can also opt for American Crew Moustache Wax. Perfect for moustache shaping, it only costs £10.50 at our Gloucester Road barber salon.
Other star male grooming products available for 2020 include Triumph & Disaster Game face Moisturiser at £25, as well as American Crew Beard 2-in-1 conditioner at £13.50.
Free samples are always available to clients for all of our male grooming products, so you can touch and feel the product. We also offer full and free consultations to clients who visit us for male grooming services such as a beard trim, and are happy to guide clients on the best male grooming products for them.
To book online and guarantee a time and slot for your next male grooming visit with no waiting time, please visit here.
To keep up-to-date with the latest trends from our team of male grooming experts in central Bristol for 2020, please visit our barbering blog here.
To find out more about our barbers on Gloucester Road, contact us here.