The latest Bristol barbering Apprentice to join our Gloucester Road men's hairdressing salon is steaming ahead with his training and cutting skills.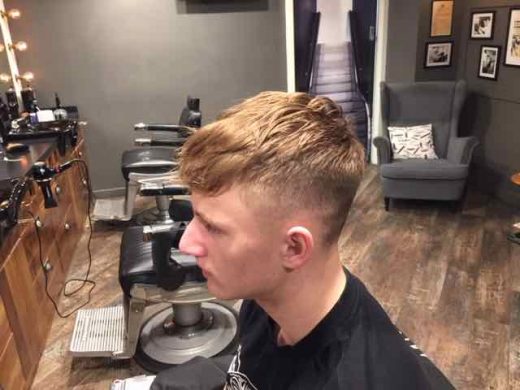 The classic Men's Skin Fade haircut above is an example of George's barbering work in action recently, and highlights his growing talent with us.
Having joined Franco's Barbering Lounge as an Apprentice only nine months ago, George has successfully completed 25% of his barbering training, and is attending Reflections Academy in Bristol once a fortnight to hone his skills, while working towards industry-recognised NVQ qualifications in Barbering.
The men's haircut above was delivered by George during one of our free men's hair modelling sessions, with George testing out his latest styling work.
The back and sides were blended with weight being retained on top and texture. The model cutting sessions are perfect for George to further develop his skills, and are provided for free to select clients on pre-booked request.
Although he's been with us for less than a year, George has fitted in really well with our experienced and qualified barbering team in Bristol, and has been a keen and enthusiastic addition to our family of barbers in BS7.
George is also being personally trained and mentored by Master Barber Franco Lombardi, who has more than three decades of men's hairdressing and male grooming expertise to ensure George's Apprenticeship is smooth.
The classic Skin Fade hairstyle from George above is also a perfect low maintenance men's haircut for Spring and Summer. Awesome work!
To book online with George or one of our other Gloucester Road barbers, please visit here.
To keep up-to-date with the latest men's haircuts and male grooming from our team of experienced Bristol men's hairdressers, please visit our barbering blog here.
To find out more about our barber salon in central Bristol, contact us here.