Our Gloucester Road barbers have been busy recently delivering awesome examples of Spring hair restyling for men in Bristol, so we thought highlighting one of our hottest seasonal men's cuts on our Barbering Blog was in order.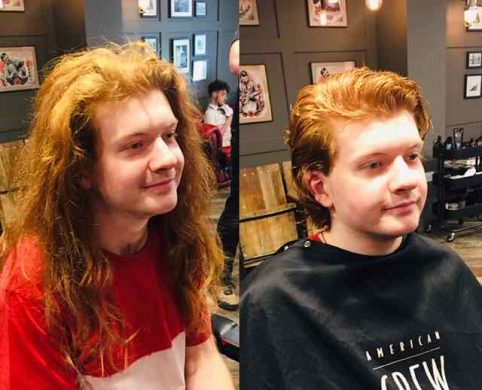 The example above is an amazing long to short hair Spring hair restyle for men, delivered for a client who came in having not had a haircut for three years. A lengthy initial hair consultation was the starting point.
Then Master Barber Franco got to work on this transformational men's haircut, by washing and shampooing the hair. It was in poor condition.
Franco then towel dried the hair, and applied American Crew Boost Cream to provide extra moisture. It's a soft, leave-in men's hair product that is superb for dry hair and hydration. It also helps to reduce frizzy hair problems.
The hair was then sectioned out, from the back and sides first, with the bulk reduced and layered using scissor work and ongoing consultation.
The top was styled, and finished with more Boost Cream being added. This transformational Spring hair restyle for men took 30 minutes, costing £30.
Our hair consultations for men are free, and provide the perfect platform for clients to fully discuss what they want from their haircut and hair products.
Our team of men's hairdressers in central Bristol are all fully-trained in the best hair products for men, and how this can benefit your hair and overall hair condition. We offer free advice to all our clients when they visit us in-salon.
To book online with one of our Gloucester Road barbers, please visit here.
To keep up-to-date with the latest men's haircuts and male grooming from our team of experienced Bristol men's hairdressers, please visit our barbering blog here.
To find out more about our barber salon in central Bristol, contact us here.