We've been getting more and more clients requesting a full hair and beard restyle for men, and the barber team in Bristol at Franco's Barbering Lounge are always ready to advise and guide on the best look for each client.
The Bristol Barbering Blog this week is a men's haircut and male grooming look, so we thought we'd focus on a combination look as Spring approaches.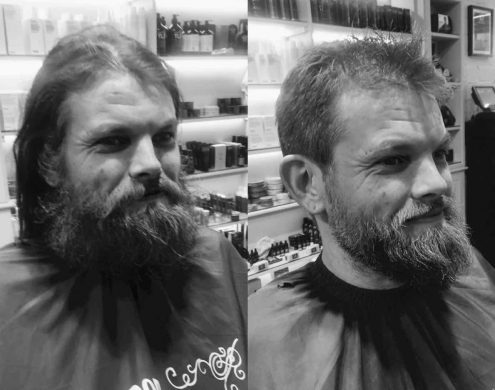 The client hadn't been in to see us for 18 months, so the starting point was a full, thorough, and free hair and grooming consultation, to ensure we were heading in the right direction for his required overall look during the visit.
It was a lengthy initial consultation, and we had two further guidance chats as the look was crafted and created by our expert barbering team in Bristol.
The hair was taken back in three stages, giving it a shorter length each time, and changing the shape of the hair with each reduction to the client's preferred look and feel.
The sides and back were reduced, then the top. The beard was tapered to match the sides, and then brought in to compliment the jawline for the client.
The entire look was delivered in around an hour, and costing from £45 all-in.
Our preferred products for this hair and beard restyle for the client included American Crew Liquid Wax for the hair giving a dry finish, as well as Mariner Jack Beard Balm to provide a superb finish for the client's facial hair overall.
We've got a fast and fabulous online booking facility available for clients – visit here to find out more and book in with us today.
We offer the best tips hints and advice on men's haircuts and new male grooming trends at our Bristol Barbering Blog – visit here to find out more and see other examples.
We offer clients a full and free consultation, so if you're not sure what to do with your hair, beard or moustache, come in and see our top team for help.
We also provide advice and guidance on the best men's hair products, male grooming and beard care products on the market, so ask for more details.
To find out more about our Gloucester Road barber salon in Bristol, contact us here.