This week at Franco's Barbering Lounge we're focusing on some charity work recently completed for an amazing organisation – the Stroke Association.
Following the sad news last year that Creative Director Franco's father had suffered a stroke, Franco and daughter Alessia decided to raise awareness through a sponsored run for the charity which assisted in his stroke recovery.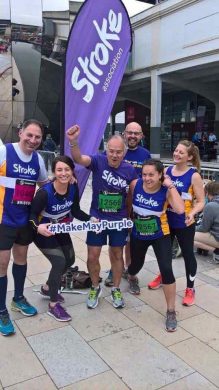 The 10K charity run was a huge success, with Franco and Alessia raising £800 for the Stroke Foundation as a huge thank-you for the incredible support they are providing for the ongoing recovery process for Franco's father.
Both Franco and Alessia completed the 10K Bristol run, and as the picture above highlights, it was an awesome day with lots of friends and clients supporting the fund-raising effort. A big thank-you to you all!
The charity run was part of the wider initiative of Make May Purple, to raise greater awareness in the month of May about strokes and their impact.
Find out more about the fantastic work done by the Stroke Association by visiting here.
To find out more about our Gloucester Road barber salon in Bristol, contact us here.