At Franco's Barbering Lounge, our regular Men's Hair Product of the Month men's hairdressing blog slot has got an awesome new hair product for men from the American Crew range – Heavy Hold Pomade.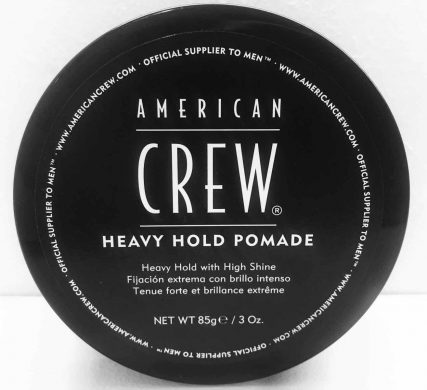 Heavy Hold Pomade is the seventh hair styling product for men launched by American Crew, and the puck provides a strong hold, especially well-suited to short back and sides men's haircuts.
American Crew Heavy Hold Pomade delivers a high shine and medium-level hold, and is suited to slick, defined men's hairstyles such as the Pompadour haircut we've been specialising in for over a year now at our men's hair salon.
The Heavy Hold Pomade is easy to apply – simply work into towel-dried hair as required. It can be added for a strong level of hold all day, and is proving to be one of the most popular American Crew men's hairstyling products we've stocked and supplied at our men's hairdressing salon in Bristol so far.
American Crew Heavy Hold Pomade is part of a wider range of men's haircare and men's hairstyling products available – including new additions such as Boost Cream, daily shampoo and hair conditioner for men.
The full range of American Crew Pomades are proving to be a popular hair product range at our Gloucester Road men's hairdressing salon, and they are especially suited for classic and contemporary men's haircuts, such as a tight short back and sides with a longer length on top.
Pop in to get yours before Christmas – only £14.95 while stocks last.
To find out more about our Gloucester Road-based barber salon in Bristol, contact us here.