It's been an awesome three months at the bigger and better new men's hair salon on Gloucester Road, and the team of Bristol barbers at Franco's Barbering Lounge have been getting incredible feedback following the launch of a new and exciting Wall of Fame for our men's hairdressing clients.
The new Wall of Fame – which we've named the Mug Shot wall – is proving to be a big hit amongst our barbering and male grooming clients.
We're using it as a fun place to highlight and showcase our outstanding examples of men's hairdressing, barbering, male grooming and men's hairstyling services in central Bristol.
We put the Mug Shot pictures across our various social media platforms, including Facebook and Instagram – and have had some incredible feedback from clients, friends, barbering colleagues and industry experts alike.
Here's an example from a recent visit to our Mug Shot wall: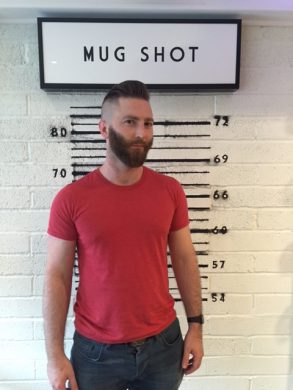 Why not get involved and grab your 15 minutes of fame, too?
When you visit us, we'll see how your final men's haircut or men's grooming looks, and it could be you gracing our social media platforms in the near future sporting your sharp, smart, sassy new look courtesy of our team of expert barbers. We're looking forward to seeing you soon!
To find out more about our central Bristol barber salon, contact us here.