There's been more barbering expertise delivered by Bristol Barber recently – with the latest cuts and creative men's hairdressing tips delivered by Franco Lombardi using male models.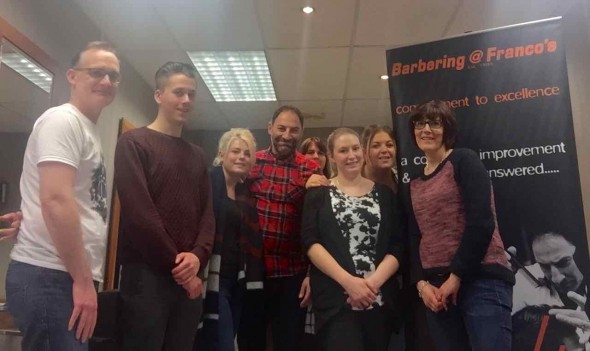 Barbering@Franco's Creative Director Franco Lombardi has over 30 years' of men's hairdressing, barbering and male grooming expertise to his name, and spent a full day with six hair stylists in the Bristol hair salon showcasing his best men's haircuts.
The full day men's barbering event was part of a series of three sessions being provided by Franco this year at the Westbury Park hair salon, and the stylists will be learning men's barbering techniques from the best in Bristol.
In the morning, two male models had different men's haircuts delivered by Franco, with the six SK109 hair stylists doing their own men's haircuts in the afternoon under Franco's expert guidance as a leading barber in Bristol.
Franco will also be providing more men's hairdressing tutoring at Reflections Academy in Bristol this year, helping student hairdressers gain confidence, skills, new techniques and their first NVQ Level I qualifications during 2016.
To find our more about SK109 hair salon, please visit here.
To see how the Reflections Academy works with student hairdressers, visit here for a closer look.
To find out more about our Gloucester Road men's hairdressing salon in Bristol, contact us here.