Bristol Barber Founder and Creative Director Franco Lombardi has successfully completed the London Marathon 2015 – and even managed to check out some of the top London men's hairdressers too.
Completing this year's London Marathon in less than five hours on 26th April, and coming in at position number 29,155, Franco raised £1,500 for the Bristol Rugby Community Foundation, which empowers young people through sport to make positive life choices.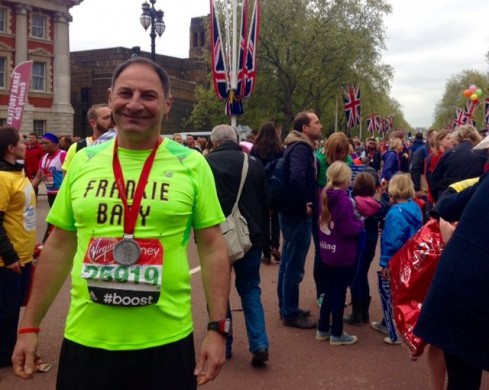 Franco also spent some time in London checking out the hottest and hippest men's hairdressers in the City, including Murdock's, Ruffians and Ted Baker's Grooming Room.
Some of the most noticeable features in all these top British barbers included:
* The best hair products for sale
* Big, comfortable barber chairs
* Branded ranges of hair products
The focus now also appears to be on salon-level men's hairdressing services – something that we've been advocating for some time.
It's awesome to see barbers embracing male grooming, with all barber salons visited busy, and men's hairdressers getting bolder in the barber chair.
The barber salon has clearly become a haven for the modern man to relax and unwind, as well as get a top haircut and brilliant grooming and hair products – all services that we offer at Barbering@Franco's, of course!
To find out more about our Gloucester Road men's hairdressing salon in Bristol, contact us here.