Bristol Barber Founder Franco Lombardi is teaching barbering workshops for 2015 at Bristol's Reflections Hair Academy, as part of a 12-month men's hairdressing course for barbering students in Bristol he helped to launch last year.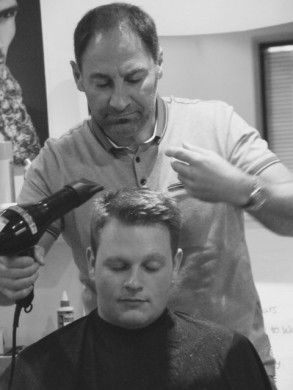 This barbering landmark for Bristol began on 01st October last year, with Franco now running one session per month for up to 10 male and female barbering students. This week's workshop was a great success.
The current group of barbering students being mentored by Franco are a mix of ages, males and females, and a great bunch committed to barbering excellence.
Franco was teaching barbering students how to use clippers for popular skin fade haircuts, as well as advising on the care and maintenance of clippers.
Clippers are a fundamental piece of barbering equipment, particularly now with an increase in popularity in the classic short back and sides haircut.
Our preferred clippers are Wahl, and it's awesome to see Wahl recently launching a cordless super taper clipper, with no cable. A powerful, professional clipper with a decent battery life – essential for the busy men's hairdressing we deliver at our Gloucester Road-based barbering salon.
Men's hairstyles now are more focused on neat, polished, perfect lines, with blending and fading. Smooth and slick are here to stay for 2015!
To find out more about our central Bristol barber salon, contact us here.