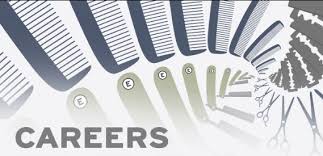 Current Job Vacancies – Winter 2018

Receptionist: Part time
We're looking for an experienced and professional part-time Receptionist to join our busy team.
Being the first point of contact for our clients, it is essential applicants have excellent spoken English, with an approachable, friendly attitude.
The right candidate will:
– Have an easy smile and a great personality
– Be polite and friendly
– Be able to make a fantastic and memorable first and last impression with our clients
– Have excellent customer service skills
– Be smartly presented at all times with an interest in hair and grooming.
– Have a professional telephone manner and be confident using a computer and till
– Be able to deal with busy and pressured situations
– Be prepared to work individually, as well as part of our great, but busy team
Previous experience as a receptionist within the hair and beauty industry or in a retail environment working on a busy customer service desk is desirable however; we are open to applications from other fields of reception or customer service work.
Different hours & days available from 17.75 to 25.25 hours per week, 3 to 5 days including one weekend day. School hours maybe possible. Good hourly rate paid along with a 4 weekly performance bonus. Any successful applicant would need to be able to start in early December.
https://www.indeedjobs.com/francos-barbering-lounge/_hl/en_GB?cpref=JXWAtnzf3XW5aRnY2g_zonsfzg9-fxtSBI07q_LSSuA
If you think you've got the skills & personality to become a great addition to our team, email your CV to admin@bristolbarber.com or collect an application form from into Franco's Barbering Lounge, 31 Gloucester Road, Bristol. BS7, 8AA