Master Barber Franco Lombardi leads the team at our Gloucester Road Bristol barber shop and has decided to advise on men's oily hair issues.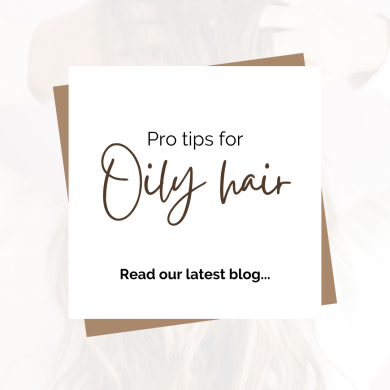 Many clients complain that they wash their hair but it still looks greasy and lifeless.
Understanding the reasons behind this and implementing effective care routines can be the ticket to fresh-looking locks.
Why does hair become oily?
Oily or greasy hair is caused by overactive sebaceous glands in the scalp producing too much sebum. While sebum is good for the hair, lending it a natural shine and protection, over-production results in oily hair issues.
Unhealthy food, medications, stress, hormonal changes, incorrect hair care and even the weather can cause overactive sebaceous glands.
Franco's best advice for dealing with men's oily hair issues is as follows:
#1. Cleansing greasy hair
Choose shampoos and conditioners specifically formulated for oily hair such as American Crew Detox Shampoo for cleaning greasy hair. Available for £13.97.
But be wary of shampooing too frequently as after each cleanse your scalp produces more oil (sebum) to replace what's lost. This can cause the scalp to go into overdrive with sebum production.
#2. Sulphate-free is the way to be
Sulphates in shampoos are detergents which strip your hair of its natural oils. This, in turn, encourages your scalp to produce more oil to compensate.
A gentler, sulphate-free shampoo can break this cycle.
If you'd like some advice about the best sulphate-free products for your specific hair type, have a chat with one of our team and they can make a bespoke recommendation.
#3. Smart conditioning for oily locks
Oily hair still needs a conditioner to moisturise back as it's water, not oil, that delivers moisture and suppleness to your strands. Conditioner is vital to shiny, healthy-looking hair.
Again, opt for one specifically formulated for greasy hair and one which complements your shampoo, such as the American Crew Daily Moisturising Conditioner available for £14.85.
When conditioning, avoid your scalp as this can lead to oil and buildup. Instead, focus on the length of your hair.
#4. Embrace hair masks
If your hair craves more hydration, add a weekly mask to your haircare routine for deep moisturising without added greasiness.
EVO's The Great Hydrator product is formulated for oily hair and doesn't leave it lank, while delivering on moisture. Available in-salon for £23.
#5. Add a clarifying shampoo
Especially if you're a fan of many styling products and dry shampoo a clarifying shampoo, used once a week, will remove any lingering residue, and rejuvenate your locks.
#6. Heads up on scalp health
Your scalp's health plays a significant role in the condition of your hair explains Franco. Use a scalp scrub once per week to exfoliate and combat excess oil and buildup to deeply cleanse.
#7. Brush up on your hair care
A hairbrush is full of styling products and oils can 'dirty' freshly washed hair. Clean your brush with shampoo or gentle soap and remove loose hair after each use to keep it spotlessly clean.
#8. Hands off the mane event
Avoid frequent hair touching. Twirling or running fingers through it can activate oil glands, transferring both scalp and hand oils to the strands, making it look greasy.
#9. Watch out for food triggers
Finally, never underestimate the effect that your diet can have on your tresses.
Much as we love fried food, fatty meat and high-fat dairy products they can trigger more oil production on skin and hair.
While sugar messes with hormones, hikes blood sugar and kickstarts oil glands. Chocolate lovers with oily hair, beware.
Need some expert hair advice?
If you'd like some professional advice on your hair and the right products for you, just ask. We love to help.
Feel free to get in touch with us here or ring us on 0117 944 6265.
Check out our Hair Tips for free advice on hair care, hair conditioning and much more.