One of the most significant issues we see clients experiencing during warmer weather is how to lock in men's grey hair coverage in Bristol during the Summer.
Franco and the team are regularly asked how clients can keep grey hair coverage or men's hair colours from losing vibrancy in hot, dry weather.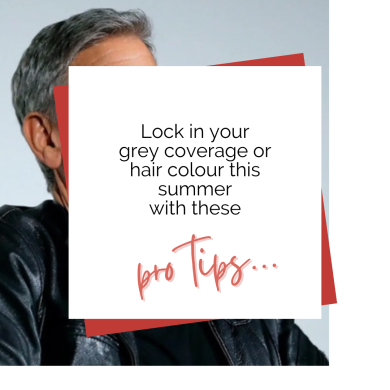 All grey hair coverage services or any hair colouring will fade over time, but by following our top tips below from Franco, you'll be able to keep your new grey hair coverage colour for longer.
Why does my grey hair coverage colour fade?
All hair and beard hair is porous, and over time hair colour molecules wash away causing the colour to fade according to Franco.
Factors such as exposure to sunlight, frequent washing, hairdryers and harsh chemicals also speed up this natural process.
Franco's top tips on how to reduce grey hair coverage colour fading include:
Wait 72 hours to shampoo
Avoid washing your hair for at least three days after your grey hair coverage colour service with us, advises Franco.
The colouring process opens hair cuticles to receive the hair pigment.
Leave time for each hair cuticle to close and lock in the colour before shampooing at home.
Buy products formulated for colour-treated hair
Franco suggests buying shampoo and conditioner products specifically designed and developed for coloured hair.
One of the best-selling examples at our Gloucester Road salon in Bristol is American Crew Precision Blend Shampoo.
Products such as this are carefully formulated to gently cleanse your hair without stripping out the colour. This also helps retain vibrancy, shield against hair damage, and to help prevent grey hair coverage colour from fading.
Wash your hair less often
This might seem like an obvious point, but according to Franco, many clients forget it.
Each hair wash can remove colour, so only shampooing hair 2-3 times per week will slow this process down.
Franco also recommends using a dry shampoo once a week, such as EVO Water Killer, which will further extend the time needed between hair washes.
Stay cool in Summer
Franco advises that hot water opens up hair shafts allowing colour to wash out more easily.
Turning the water temperature down in Summer helps hair to lock in colour.
Protect against sun damage
The sun not only damages skin but also hair, and UVA rays can cause hair colour fade with UVB leading to hair breakages, says Franco.
It is a good idea to use hair protection products such as American Crew Grooming Spray that will style, condition and protect from the sun's rays during the Summer months.
Grooming Spray is also an awesome product for anyone who wants a light and invisible product, adds Franco.
If you're going to be spending full days on the beach or by the pool, it is also sensible to protect your hair with a hat or cap.
Watch out for chlorine fade
"Harsh pool chemicals can wreak havoc on your hair's condition and colour, and it's wise to choose a specifically-formulated chlorine removal shampoo," says Franco.
His personal favourite is EVO Normal Persons Daily Shampoo which gently removes chlorine from hair and scalp without stripping out moisture.
Chemicals used in pools can also leave grey hair with a brassy hue, says Franco.
Our top product to combat this is American Crew Silver Shampoo.
Hydrate, hydrate, hydrate
Adding hydration back into hair is vital in the Summer months, says Franco, as dry and brittle hair will be much more prone to colour-fading issues.
Franco recommends applying a deep conditioning mask such as EVO The Great Hydrator Moisture Mask weekly to mid-lengths and hair ends to hydrate, moisturise, strengthen and reduce grey hair coverage colour fade.
Turn down the heat
Heated hair tools damage hair and accelerate colour fade, as they leave hair cuticles dry and damaged, especially in the Summer.
Franco's top tips are:
"Take a break from hairdryers and air-dry your hair naturally at least once a week"
"When you do use heated tools, turn the heat level down and always use a heat protector"
Many of our clients use American Crew Prep & Prime Tonic for this issue.
Fight the fade!
The healthier your hair is and the gentler you are with it during the warmer Summer months, the longer your grey hair coverage colour will last.
It is impossible to prevent grey hair coverage or any hair colour from fading, but these professional tips from Franco will prolong the vibrancy of your hair colour between appointments with us.
If you're unsure which products are right for you, just ask Franco and the team. Our in-salon men's hair consultations in Bristol are the best in the city.
Special offer on natural grey hair coverage
New to grey hair coverage? Or are you looking to blend in your grey hair more naturally and unsure how?
Book a free men's hair colour consultation here including an allergy test and get 20% off your first natural grey hair coverage service with us.
If you're already a tried-and-tested fan of our natural grey hair coverage service in Bristol, then mention this blog post and get 10% off every third grey hair coverage service that you book.
If you'd like more information on a grey hair coverage service with us this Summer, call us on 0117 944 6265 and mention this blog post.
Franco's Barbering Lounge
Average rating:
0 reviews