We've noticed a trend recently in the most popular beard grooming products in Bristol at our Gloucester Road men's hairdressing salon and thought it would be a good idea to blog about it.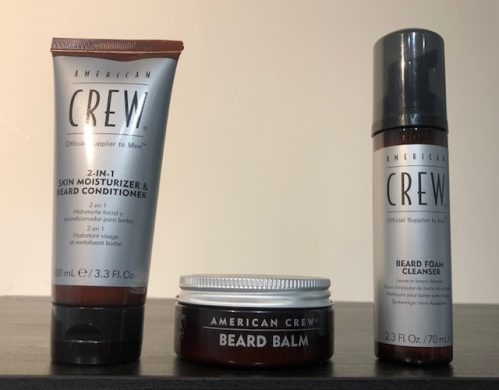 American Crew have an awesome range of beard grooming products, and these are always best-sellers with our discerning clients.
There are three beard grooming products in particular that clients love, so let's take a closer look at these superb beard care products for men in Bristol.
First up is American Crew Beard Serum, which retails at our men's salon for £15.25.
It's a lightweight oil-based serum specially designed for beard care. The oils condition and keep the beard soft and well-groomed all day.
Simply apply into the palm, rub hands together then spread evenly throughout the beard. It's a fantastic daily beard grooming product.
Secondly, we recommend American Crew Beard Foam Cleanser, also available for £15.25.
This is a leave-in cleanser that's easy to use and with a quick-absorbing dry foam. It also helps to stop frizzy and wiry beard hair, while giving hydration.
The foam provides freedom from daily beard residue while also keeping the beard clean and easy to manage.
Our third most popular beard grooming product in Bristol is American Crew Beard Balm, also available for £15.25.
Beard Balm helps to condition and tame beard hair, delivering a well-formed look and giving a flexible enough hold to allow for styling.
If you buy all three American Crew beard grooming products highlighted in this blog post, and mention the blog post-in-salon, you'll get 10% off the total price of all three products.
To see the full range of American Crew beard care products we stock, please visit our online shop here. To find out more about the full range of men's hairdressing and men's grooming services at our Bristol barber salon, simply get in touch via info@bristolbarber.com and mention this blog post.
Franco's Barbering Lounge
Average rating:
0 reviews