Clients coming to us for the first time sometimes ask how to find the best men's hairdresser in Bristol. We can confidently say they've found it!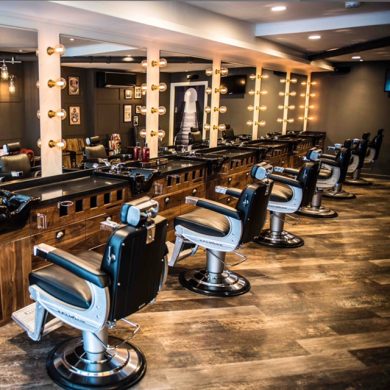 But there are a few key factors to consider when looking for a reputable, professional and experienced men's hairdresser in Bristol.
One of the first elements is men's hair consultation. It is absolutely vital.
The team of Bristol barbers at Franco's Barbering Lounge place huge importance on the consultation phase.
In fact, we dedicate 80% of our time to it with each and every client. Buy why?
Consultation with a client happens throughout their visit with us. Not just at the start with a cursory "What are we doing today, then?" but an in-depth conversation about hair type, hair problems, hair products used, the desired look, and forward planning for the client's future haircuts with us.
Some of the key areas we look at include giving realistic advice, discussing hair care and product usage, a full and honest assessment of the client's hair, and any questions the client has, as well as ensuring we consult throughout.
Our Gloucester Road Barbers consider ourselves to be Hair Doctors, and this means getting into the DNA of every client's hair and prescribing the best possible advice for their hair and grooming.
We will also look at the client's long-term goals of their hair, and get feedback from them with each new visit. We manage expectations and recommend visits every 4-6 weeks.
The first question is "How is your hair?" to enable the client to talk about the things they like and don't like about their hair before we provide any input.
Our men's hair consultations will also include tailor-made professional advice.
We provide bespoke men's hairdressing services and not a standard service that just involves a five-minute clipper trim.
The Bristol barbers at Franco's Barbering Lounge are proud to be consistent, professional and passionate about giving clients the best men's hairdressing.
Another key consideration is what people think of the barber.
This comes from looking at reviews from previous clients, as well as how active the men's hairdresser salon is on social media platforms such as Instagram.
When reviewing a Bristol men's hairdresser online, check to see if they use their own in-salon images of client cuts and not stock images from Google.
It is also important to see how big are the team of men's hairdressers.
For example, at Franco's Barbering Lounge, we have seven hairdressers and have been operating continually since 1985 on Gloucester Road.
We recommend that it is worth looking at the prices being charged by a Bristol men's hairdressing salon. If it is too cheap, it is worth asking why.
Another element to consider is how well the men's hairdressing salon caters for clients.
At our Gloucester Road men's hair salon, we only take appointments and not walk-ins. We also offer payment by card for clients.
Furthermore, we have an App for booking as well as sending clients text reminders for their appointments with us.
Don't forget to also check out our Bristol Gents Hairdressing Blog to get free hints and tips on hair care, hair products, and how to keep your hair in amazing condition.
We also provide full and thorough hair consultations for clients, giving advice on their specific hair requirements as well as the best hair care products.
To find out more about the full range of men's hairdressing and men's grooming services at our Bristol barber salon, simply get in touch via info@bristolbarber.com and mention this blog post.
Franco's Barbering Lounge
Average rating:
0 reviews