The seasons have changed and it's time to take a closer look at the current Autumn hair trends for men in Bristol for 2022.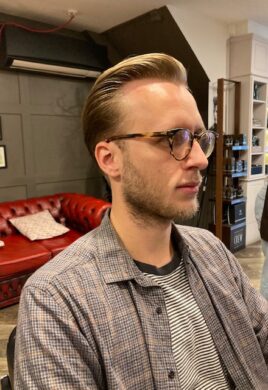 When it comes to men's hairstyling trends, it is important to also talk about grooming and beard services at our Gloucester Road salon.
For Autumn 2022, beard shaping will be in demand, as it has been throughout the entire year so far.
Beard trimming and beard shaping are among the most popular services at Franco's Barbering Lounge.
Our team of men's grooming specialists spend around 90% of their time using scissors not clippers, to give each and every beard service a detailed and bespoke finish for our clients.
Skin Fades are popular but not aggressive and bold styling. Clients are asking for softer and gentler fades as the Autumn closes in.
We are seeing ongoing popularity for longer hairstyles and curly hair for men. This is likely to continue into the Autumn and Winter in Bristol.
Structured and tight men's hairstyles are not requested as much during the colder months, and we expect to see more clients opting for increased hair movement alongside natural finishes and loose styling.
We have a full range of beard grooming products and hairstyling products available online for the Autumn. Simply visit here to pick your favourites.
Don't forget also to check out our Bristol Gents Hairdressing Blog to get free hints and tips on hair care, hair products, and how to keep your hair in fantastic condition.
To find out more about the full range of barbering services, men's grooming products and hair products for men at our Bristol barber salon, simply get in touch via info@bristolbarber.com and mention this blog post.