Franco's Barbering Lounge is launching a Model Club which means there are FREE men's haircuts available for a limited time in Bristol.
Harrison, our newest barbering Apprentice, has successfully completed his training and is also ready to take on his own column.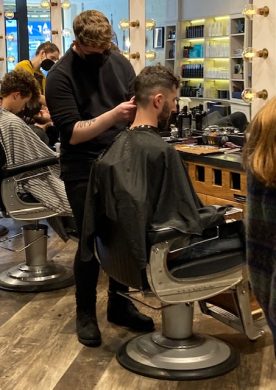 If you have any friends, family or work colleagues that are looking for discounted or free haircuts, please share this blog post urgently!
Our Gloucester Road-based barber salon is offering free haircuts for men in Bristol to give Harrison the opportunity to show off his men's hairdressing skills, and give new clients a taste of his awesome barbering.
Harrison joined us with a real passion for barbering, men's hairstyling and men's grooming and has worked closely with Franco and the team.
We also had an in-salon staff training day on 21st February with long hair specialists from American Crew attending to give hints, tips and advice on getting the best out of long hair styling.
Clients with medium length and longer hair can get free cutting, styling, and advice on the best men's hair products on the day.
American Crew specialists worked with our barbering team to provide specialist training throughout the day.
It was an awesome day, with lots of great advice being given.
To get your free men's haircut in Bristol, simply get in touch via info@bristolbarber.com and mention this blog post.