January is with us, and it's a great time to talk about some of the latest and new men's hairstyling tips for 2022 from our Bristol barbers.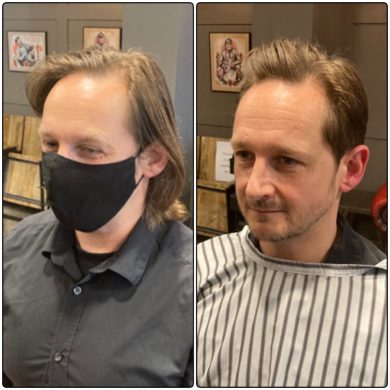 One of the most common hairstyling requests we get from clients in colder, wetter months is how to add volume to their hair while keeping it in good condition in the Winter. Clients also ask how to add further shine.
Simply wash the hair, towel dry it and work a cocktail of these superb hair products into the hair.
Our favourite men's hairstyling product for this issue is American Crew Volumizing Mousse.
Simply take a golf ball-sized ball of the Mousse in the hand and cocktail it with two drops of Moroccan Oil and one drop of American Crew Liquid Wax.
The result is added volume, more texture and conditioned hairstyling for men.
It delivers a perfect, non-sticky natural look without fluff or frizz and a good level of hold courtesy of the Liquid Wax. Ask-in salon for further details.
Use a hair drier on a hot setting and low speed, then work the roots with the fingertips lifting them to complete this men's hairstyling process.
This hairstyling tip provides a base level of hair care for men and works well on any hair length or hair type.
American Crew Volumizing Mousse is available in-salon for £13.50. Moroccan Oil costs £13.45, while American Crew Liquid Wax is priced at £14.50.
Using this trio of hair conditioning and hairstyling products together gives the perfect mix of volume, shine and weather-beating condition – all in one go.
Other men's hairstyling products that are popular at our Gloucester Road barber salon include finishing sprays, boost powders and matt clays.
To see our full range of men's hair styling products, visit our Bristol barbershop online.
To contact us, simply get in touch anytime via info@bristolbarber.com.